Replacement of Light Bulbs
Before attempting to replace a light bulb, be sure the switch is turned to the "OFF" position.
The next paragraph shows how to reach the light bulbs so they may be changed. Be sure to replace the burned-out bulb with one of the same number and wattage rating.
See page 6-29 for the wattage descriptions.
CAUTION:
o Keep the lamps out of contact with petroleum products, such as oil, gasoline, etc.
o If you don't have necessary tools, the correct bulbs and the expertise, consult your authorized Hyundai dealer.
Headlight, Front Turn Signal Light and Front Fog Light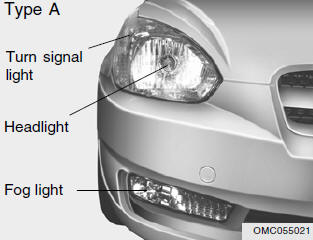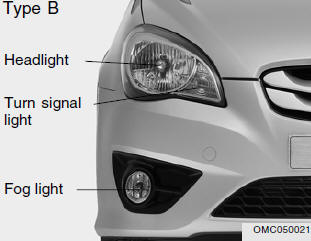 CAUTION:
o The headlight aiming should be checked by an authorized Hyundai dealer after replacing the headlight bulbs.
o After heavy, driving rain or washing, headlight and taillight lenses could appear frosty. This condition is caused by the temperature difference between the lamp inside and outside. This is similar to the condensation on your windows inside your vehicle during the rain and doesn't indicate a problem with your vehicle. If the water leaks into the lamp bulb circuitry, have the vehicle checked by an authorized Hyundai dealer.
Headlight
1. Allow the bulb to cool. Wear eye protection.
2. Open the engine hood and disconnect the negative (-) post of the battery.
3. Always grasp the bulb by its plastic base, avoid touching the glass.
4. Disconnect the power cord from the back of the headlight.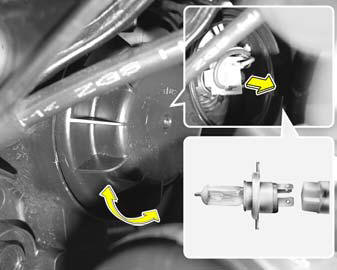 5. Remove the socket cover.
6. Push the bulb spring to remove the headlight bulb.
7. Remove the protective cap from the replacement bulb and install the new bulb by matching the plastic base with the headlight hole. Reattach the bulb spring and install the socket cover. Reconnect the power cord.
8. Use the protective cap and carton to dispose of the old bulb.
9.Check for proper headlight aim.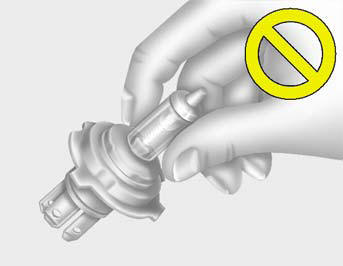 WARNING:
o When removing/replacing halogen bulbs, always handle the metal body of the bulb, not the glass. Residual oil may cause the bulb to overheat and burst when lit.
o The halogen bulb contains gas under pressure and if impacted could shatter, resulting in flying fragments. Always wear eye protection when servicing the bulb. Protect the bulb against abrasions or scratches and against liquids when lighted. Turn the bulb on only when installed in a headlight. Replace the headlight if damaged or cracked. Keep the bulb out of the reach of children and dispose of the used bulb with care.