Map Light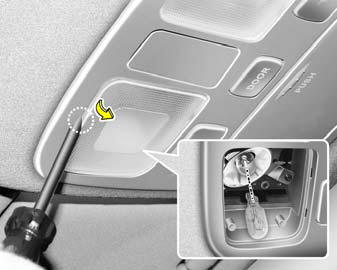 1. Remove the cover with a flat-head screwdriver.
2. Replace with a new bulb.
See also:
Low Tire Pressure Telltale
When the tire pressure monitoring system warning telltale is illuminated, one or more of your tires is significantly under-inflated. Immediately reduce your speed, avoid hard cornering and antici ...
Safety
For a car with this much power, safety is also at the top of the priority list. Hyundai is a leading innovator in safety, offering all its vehicles' safety features as standard equipment rather th ...
2011 Hyundai Elantra review
Either I'm getting finicky in my old age or Michigan's never-ending winter is getting to me. Even though the 2011 Hyundai Elantra looked cool and handled well over hard-packed snow-covered roads, ...