Hyundai Sonata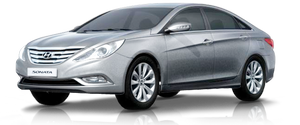 Sonata is a 4-door, 5-passenger family sedan.
See also:
Sun visor
Sun visor Your Hyundai is equipped with sun visors to give the driver and front passenger either frontal or sideward shade. To reduce glare or to shut out direct rays of the sun, turn the sun vi ...
Risk of rollover
WARNING: o The 2WD Tucson is not designed for offroad use. The 4WD Tucson is designed primarily for use on paved roads. However, occasional use in off-highway conditions such as established unpav ...
Performance
A horsepower rating of 110 doesn't sound like a lot of power to anyone these days, but it was only a few years ago that a Honda Civic produced only 115 hp. The Accent's four-cylinder never felt un ...