Front Turn Signal light
1. Open the engine hood and disconnect the negative (-) post of the battery.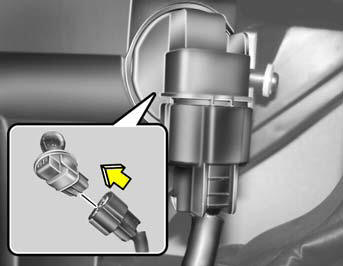 2. Disconnect the power cord from the bulb.
3. Take out the bulb from the bulb holder by turning it counterclockwise.
4. Install the new bulb.
See also:
Loosen Wheel Nuts
The wheel nuts should be loosened slightly before raising the car. To loosen the nuts, turn the wrench handle counterclockwise. When doing this, be sure that the socket is seated completely over ...
Accent in the market
If all you need is the most basic transportation, a sub-$10,000 Accent might be the right pick for you. But once you reach the full price tag by loading it up with features most buyers expect in a ...
To Check the Oil Level
Before checking the oil, warm up the engine to the normal operating temperature and be sure it is parked on level ground. Turn the engine off. Wait five minutes, then remove the dipstick, wipe it ...