Front Turn Signal light
1. Open the engine hood and disconnect the negative (-) post of the battery.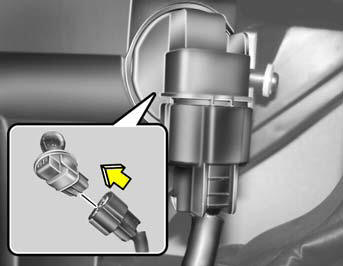 2. Disconnect the power cord from the bulb.
3. Take out the bulb from the bulb holder by turning it counterclockwise.
4. Install the new bulb.
See also:
DIRECT INJECTION LAMBDA 3.8-LITER ENGINE
In keeping with its 5.0-liter V8 sibling, the Hyundai Genesis 3.8-liter Lambda engine will receive direct injection (GDI) technology, boosting its output 15 percent from 290 to 333 horsepower, an ...
Overview
A new world-beating engine, more equipment and a stylish new look - all at a lower price. The 2010 Hyundai Santa Fe looks too good to be true. But buyers looking for a big, practical family car ca ...
Use high quality ethylene glycol coolant
Your vehicle is delivered with high quality ethylene glycol coolant in the cooling system. It is the only type of coolant that should be used because it helps prevent corrosion in the cooling syst ...