Front Turn Signal light
1. Open the engine hood and disconnect the negative (-) post of the battery.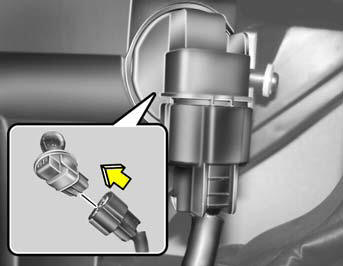 2. Disconnect the power cord from the bulb.
3. Take out the bulb from the bulb holder by turning it counterclockwise.
4. Install the new bulb.
See also:
Don't let ice and snow accumulate underneath
Under some conditions, snow and ice can build up under the fenders and interfere with the steering. When driving in severe winter conditions where this may happen, you should periodically check un ...
WORLD CLASS POWER-TO-WEIGHT RATIO
One of the program targets for the 2011 Sonata engineering team was world-class power-to-weight ratio. Power-to-weight ratio pays dividends in both performance and fuel economy. Hyundai Sonata i ...
CARE OF SEAT BELTS
Seat belt systems should never be disassembled or modified. In addition, care should be taken to assure that seat belts and belt hardware are not damaged by seat hinges, doors or other abuse. WAR ...