Operating the Manual Transaxle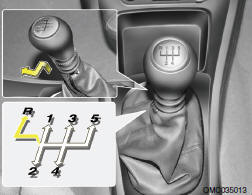 Your Hyundai's manual transaxle has five forward gears and one reverse gear. This shift pattern is also imprinted on the shift knob. The transaxle is fully synchronized in all forward gears so shifting to either a higher or a lower gear is easily accomplished. When shifting into reverse gear, pull the mis-shift prevention tab and shift into reverse gear position.
NOTE:
o To shift into reverse, rest the lever in neutral for at least 3 seconds after your car is completely stopped. Then move the lever into the reverse position. o During cold weather, shifting may be difficult until the transaxle lubricant has warmed up. This is normal and not harmful to the transaxle.
o If you've come to a complete stop and it's hard to shift into 1st or R(Reverse), put the shift lever in N(Neutral) position and release the clutch. Press the clutch pedal back down, and then shift into 1st or R(Reverse) gear position.
o Do not use the shift lever as a handrest during driving, as this can result in premature wear of the transaxle shift forks.
CAUTION:
o Do not downshift more than 2 gears or downshift the gear when the engine is running at high speed (5,000 RPM or higher). Such downshifting may damage the engine.
o When downshifting from fifth gear to fourth gear, caution should be taken not to inadvertently press the gear shift lever sideways in such a manner that second gear is engaged. Such a drastic downshift may cause the engine speed to increase to the point that the tachometer will enter the red zone. Such over revving of the engine may possibly cause engine damage.
See also:
BEST-IN-CLASS FUEL ECONOMY AND POWER
Power for the Accent comes from a 1.6-liter 4-cylinder engine with direct-injection, a first for the segment. With 138 horsepower and 123 lb-ft of torque, it's significantly more than the current ...
Risk of rollover
WARNING: o The 2WD Tucson is not designed for offroad use. The 4WD Tucson is designed primarily for use on paved roads. However, occasional use in off-highway conditions such as established unpav ...
Replacing Accessory Fuses
The fuse box for the lights and other electrical accessories will be found low on the dashboard on the driver's side. Inside the box you will find a list showing the circuits protected by ea ...