Using the Clutch
The clutch should be pressed all the way to the floor before shifting, then released slowly. Do not rest your foot on the clutch pedal while driving. This can cause unnecessary wear.
Do not partially engage the clutch to hold the car on an incline. This causes unnecessary wear. Use the parking brake to hold the car on an incline. Do not operate the clutch pedal rapidly and repeatedly.
RECOMMENDED SHIFT POINTS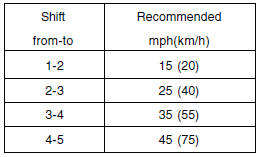 The shift points as shown above are recommended for optimum fuel economy and performance.
See also:
How to use this manual
We want to help you get the greatest possible driving pleasure from your vehicle. Your Owner's Manual can assist you in many ways. We strongly recommend that you read the entire manual. In order t ...
Features
The Genesis won't confuse you with option packages or trim levels: Only the 3.8 has option packages to choose from, and there are only two. The Genesis 3.8 starts at $34,200 and comes equipped wit ...
Necessary inspections
Fluid levels, such as engine oil, engine coolant, brake fluid, and washer fluid should be checked on a regular basis, with the exact interval depending on the fluid. Further details are provided i ...