Raising the Car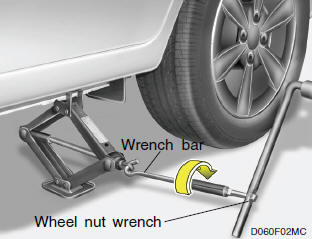 After inserting a wrench bar into the wheel nut wrench, install the wrench bar into the jack as shown in the drawing. To raise the vehicle, turn the wheel nut wrench clockwise. As the jack begins to raise the vehicle, double check that it is properly positioned and will not slip. If the jack is on soft ground or sand, place a board, brick, flat stone or other object under the base of the jack to keep it from sinking.
Raise the car high enough so that the fully inflated spare tire can be installed.
To do this, you will need more ground clearance than is required to remove the flat tire.
WARNING:
Do not get under the car when it is supported by the jack! This is very dangerous as the vehicle could fall and cause serious injury or death. No one should stay in the car while the jack is being used.
See also:
Cruise control
(If installed) The cruise control system provides automatic speed control for your comfort when driving on straight, open freeways, toll roads, or other noncongested highways. This system is des ...
Daytime running light (if equipped)
Daytime Running Lights (DRL) can make it easier for others to see the front of your vehicle during the day. DRL can be helpful in many different driving conditions, and it is especially helpful af ...
Exterior
The original Genesis was an understated sedan. The attractive grille — sans the Hyundai "H" logo — was probably the most unique feature. For 2012 you'd have to say the redesigned headlig ...