Fuses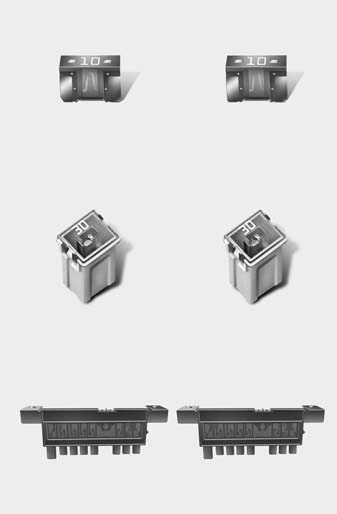 A vehicle's electrical system is protected from electrical overload damage by fuses.
This vehicle has 2 fuse panels, one located in the driver's side panel bolster, the other in the engine compartment.
If any of your vehicle's lights, accessories, or controls do not work, check the appropriate circuit fuse. If a fuse has blown, the element inside the fuse will be melted.
If the electrical system does not work, first check the driver's side fuse panel. Always replace a blown fuse with one of the same rating.
If the replacement fuse blows, this indicates an electrical problem. Avoid using the system involved and immediately consult an authorized HYUNDAI dealer. Three kinds of fuses are used: blade type for lower amperage rating, cartridge type, and multi fuse for higher amperage ratings.
WARNING - Fuse replacement
• Never replace a fuse with anything but another fuse of the same rating.
• A higher capacity fuse could cause damage and possibly a fire.
• Never install a wire instead of the proper fuse - even as a temporary repair. It may cause extensive wiring damage and a possible fire.
CAUTION
Do not use a screwdriver or any other metal object to remove fuses because it may cause a short circuit and damage the system.
See also:
RUNNING iPod®(PA710) (If Installed)
1. iPod Selection Button 2. TRACK Moving Button 3. RANDOM Playback Button 4. REPEAT Selection Button 5. INFO Button 6. SEARCH Knob & ENTER Button 7. CATEGORY Selection Button 1. iPod Sele ...
2011 Hyundai Elantra review By Scott Burgess
The very first thing I said to myself when I sat down in the 2011 Hyundai Elantra was "Well, this is going to screw things up." For months, I have been advocating that the best compact c ...
Measurement
POWER STEERING FUEL SYSTEM TIRE BRAKE ...