Fuses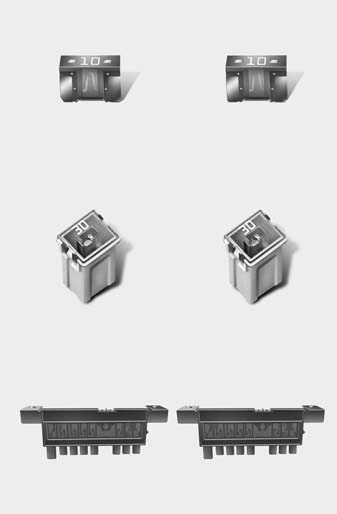 A vehicle's electrical system is protected from electrical overload damage by fuses.
This vehicle has 2 fuse panels, one located in the driver's side panel bolster, the other in the engine compartment.
If any of your vehicle's lights, accessories, or controls do not work, check the appropriate circuit fuse. If a fuse has blown, the element inside the fuse will be melted.
If the electrical system does not work, first check the driver's side fuse panel. Always replace a blown fuse with one of the same rating.
If the replacement fuse blows, this indicates an electrical problem. Avoid using the system involved and immediately consult an authorized HYUNDAI dealer. Three kinds of fuses are used: blade type for lower amperage rating, cartridge type, and multi fuse for higher amperage ratings.
WARNING - Fuse replacement
• Never replace a fuse with anything but another fuse of the same rating.
• A higher capacity fuse could cause damage and possibly a fire.
• Never install a wire instead of the proper fuse - even as a temporary repair. It may cause extensive wiring damage and a possible fire.
CAUTION
Do not use a screwdriver or any other metal object to remove fuses because it may cause a short circuit and damage the system.
See also:
Rear Brake Drums/Linings, Parking Brake
Check the rear brake drums and linings for scoring, burning, leaking fluid, broken parts, and excessive wear. Inspect the parking brake system including the parking brake lever and cables. For det ...
FLOOR MAT ANCHOR(S)
When using a floor mat on the front floor carpet, make sure it attaches to the floor mat anchor(s) in your vehicle. This keeps the floor mat from sliding forward. WARNING: The following must be ...
Headlamp welcome function
When the headlight switch is in the ON or AUTO position and all doors (and trunk) are closed and locked, if you press the door unlock button on the transmitter (or the smart key), the headlights w ...