FILLING THE WASHER RESERVOIR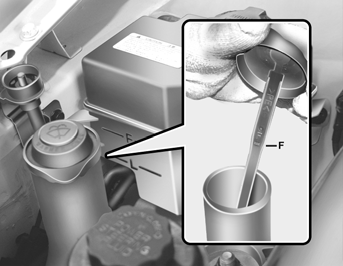 A good quality washer fluid should be used to fill the washer reservoir. The fluid level should be checked more frequently during inclement weather or whenever the washer system is in more frequent use.
CAUTION:
o Radiator anti-freeze (engine coolant) should not be used in the washer system because it will damage the car's finish.
o The washer should not be operated if the washer reservoir is empty. This can damage the washer fluid pump.
WARNING:
o Windshield washer fluid agents contain some amounts of alcohol and can be flammable under certain circumstances. Do not allow sparks or flame to contact the washer fluid or the washer fluid reservoir. Damage to the vehicle or its occupants could occur.
o Windshield washer fluid is poisonous to humans and animals. Do not drink windshield washer fluid. Serious injury or death could occur.
See also:
Breaking in your new Hyundai
No formal "break-in" procedure is required with your new Hyundai. However, you can contribute to the economical operation and durability of your Hyundai by observing the following recomme ...
Advanced supplemental restraint (Airbag) sustem (SRS)
Your Hyundai is equipped with an advanced Supplemental Restraint (Airbag) System. The indications of the system's presence are the letters "SRS AIRBAG" embossed on the airbag pad cover ...
Air bag non-inflation conditions
• In certain low-speed collisions the air bags may not deploy. The air bags are designed not to deploy in such cases because they may not provide benefits beyond the protection of the seat belts ...