FILLING THE WASHER RESERVOIR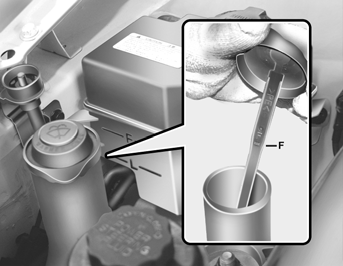 A good quality washer fluid should be used to fill the washer reservoir. The fluid level should be checked more frequently during inclement weather or whenever the washer system is in more frequent use.
CAUTION:
o Radiator anti-freeze (engine coolant) should not be used in the washer system because it will damage the car's finish.
o The washer should not be operated if the washer reservoir is empty. This can damage the washer fluid pump.
WARNING:
o Windshield washer fluid agents contain some amounts of alcohol and can be flammable under certain circumstances. Do not allow sparks or flame to contact the washer fluid or the washer fluid reservoir. Damage to the vehicle or its occupants could occur.
o Windshield washer fluid is poisonous to humans and animals. Do not drink windshield washer fluid. Serious injury or death could occur.
See also:
Cargo
The coupe has a traditional trunk that measures 10 cubic feet, which is enough room to accommodate three golf bags. You can create more cargo room by folding down the rear seatback, which is relea ...
Before starting the engine
Before you start the engine, you should always: 1. Look around the vehicle to be sure there are no flat tires, puddles of oil, water or other indications of possible trouble. 2. After entering the ...
Fuse panel description
Engine Compartment NOTE: Not all fuse panel descriptions in this manual may be applicable to your vehicle. It is accurate at the time of printing. When you inspect the fuse box on your vehicl ...