Checking drive belts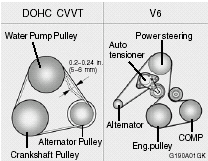 Drive belts should be checked periodically for proper tension and adjusted if necessary. At the same time, belts should be examined for cracks, wear, fraying or other evidence of deterioration and replaced if necessary.
Belt routing should also be checked to be sure there is no interference between the belts and other parts of the engine. After a belt is replaced, the new belt should be adjusted again after two or three weeks to eliminate slack resulting from initial stretching after use.
See also:
Driving in the rain
Rain and wet roads can make driving dangerous, especially if you're not prepared for the slick pavement. Here are a few things to consider when driving in the rain: • A heavy rainfall will make it ...
Use approved window washer anti-freeze in system
To keep the water in the window washer system from freezing, add an approved window washer anti-freeze solution in accordance with instructions on the container. Window washer anti-freeze is avail ...
Pre-Trip Inspections
1. Tires: Adjust the tire inflation pressures for highway driving. Low tire inflation pressures will result in overheating and possible failure of the tires. Avoid using worn or damaged tires whi ...