Checking drive belts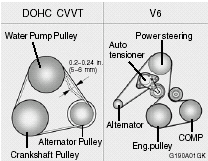 Drive belts should be checked periodically for proper tension and adjusted if necessary. At the same time, belts should be examined for cracks, wear, fraying or other evidence of deterioration and replaced if necessary.
Belt routing should also be checked to be sure there is no interference between the belts and other parts of the engine. After a belt is replaced, the new belt should be adjusted again after two or three weeks to eliminate slack resulting from initial stretching after use.