If Engine Doesn't Turn Over or Turns Over Slowly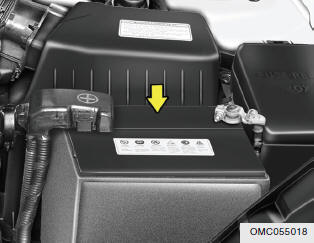 1. If your car has an automatic transaxle, be sure the gear selector lever is in "N" or "P" and the emergency brake is set.
2. Check the battery connections to be sure they are clean and tight.
3. Turn on the interior light. If the light dims or goes out when you operate the starter, the battery is discharged.
4. Check the starter connections to be sure they are securely tightened.
5. Do not push or pull the vehicle to start it. See instructions for "Jump Starting".
See also:
Overdrive Switch
When the overdrive switch is turned on, the transaxle will automatically upshift to the second, third and overdrive gears. When the overdrive switch is turned off, the transaxle will not upshift ...
Resetting the sunroof
Whenever the vehicle battery is disconnected or discharged, you have to reset your sunroof system as follows: 1. Turn the ignition key to the "ON" position. 2. Press the TILT UP button f ...
30,000 miles (48,000 km) or 24 months
❑ Inspect vacuum hose ❑ Inspect air conditioning refrigerant ❑ Inspect brake hoses and lines ❑ Inspect drive shafts and boots ❑ Inspect electronic throttle contr ...