If Engine Doesn't Turn Over or Turns Over Slowly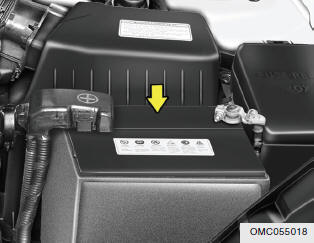 1. If your car has an automatic transaxle, be sure the gear selector lever is in "N" or "P" and the emergency brake is set.
2. Check the battery connections to be sure they are clean and tight.
3. Turn on the interior light. If the light dims or goes out when you operate the starter, the battery is discharged.
4. Check the starter connections to be sure they are securely tightened.
5. Do not push or pull the vehicle to start it. See instructions for "Jump Starting".
See also:
40 MPG POWERTRAIN
Under the hood, the Hyundai Elantra is powered by an all-new 1.8-liter Nu four-cylinder engine with 148 horsepower and 131 lb-ft of torque (145 horsepower and 130 lb-ft of torque for Elantra PZEV) ...
Engine compartment fuse replacement
1. Turn the ignition switch and all other switches off. 2. Remove the fuse panel cover by pressing the tab and pulling up. 3. Check the removed fuse; replace it if it is blown. To remove or insert ...
Tire pressure monitoring system (TPMS)
(1) Low tire pressure telltale / TPMS malfunction indicator Each tire, including the spare (if provided), should be checked monthly when cold and inflated to the inflation pressure recommended by ...