Recommended Engine Coolant
When adding coolant, use only deionized water or soft water for your vehicle and never mix hard water in the coolant filled at the factory. An improper coolant mixture can result in serious malfunction or engine damage.
Use a high quality ethylene-glycol coolant in a 50/50 mix with water. The engine coolant should be compatible with aluminum engine parts. Additional corrosion inhibitors or additives should not be used. The cooling system must be maintained with the correct concentration and type of engine coolant to prevent freezing and corrosion.
Never allow the concentration of antifreeze to exceed the 60% level or go below the 35% level or damage to the coolant system may result. For proper concentration when adding or replacing the coolant, refer to the following table.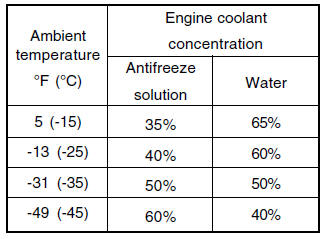 See also:
Exterior
The original Genesis was an understated sedan. The attractive grille — sans the Hyundai "H" logo — was probably the most unique feature. For 2012 you'd have to say the redesigned headlig ...
Exterior & Interior Styling
Save for the standard 18-inch alloy wheels and dual exhaust, there's not much inside or out that differentiates the 2.0T from the non-turbo Sonata. I found the driver's seat comfortable, and mater ...
AUX, USB AND iPod® PORT
If your vehicle has an aux and/or USB(universal serial bus) port or iPod port, you can use an aux port to connect audio devices, a USB port to plug in a USB, and an iPod port to plug in an iPod. ...