Recommended Engine Coolant
When adding coolant, use only deionized water or soft water for your vehicle and never mix hard water in the coolant filled at the factory. An improper coolant mixture can result in serious malfunction or engine damage.
Use a high quality ethylene-glycol coolant in a 50/50 mix with water. The engine coolant should be compatible with aluminum engine parts. Additional corrosion inhibitors or additives should not be used. The cooling system must be maintained with the correct concentration and type of engine coolant to prevent freezing and corrosion.
Never allow the concentration of antifreeze to exceed the 60% level or go below the 35% level or damage to the coolant system may result. For proper concentration when adding or replacing the coolant, refer to the following table.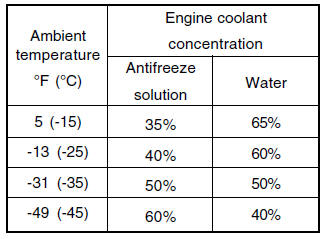 See also:
Operating door locks from inside the vehicle
With the door lock button Х To unlock a door, push the door lock button (1) to the УUnlockФ position. The red mark (2) on the button will be visible. Х To lock a door, push the door lock button ...
Trunk Lid (4 Door)
o The trunk lid is opened by first turning the key clockwise to release the lock, then raising the door manually. o To close, lower the trunk lid, then press down on it until it locks. To be sure ...
Armed stage
Using the smart key Park the vehicle and stop the engine. Arm the system as described below. 1.Turn off the engine. 2.Make sure that all doors, the engine hood and trunk lid are closed and latched ...