Recommended Engine Coolant
When adding coolant, use only deionized water or soft water for your vehicle and never mix hard water in the coolant filled at the factory. An improper coolant mixture can result in serious malfunction or engine damage.
Use a high quality ethylene-glycol coolant in a 50/50 mix with water. The engine coolant should be compatible with aluminum engine parts. Additional corrosion inhibitors or additives should not be used. The cooling system must be maintained with the correct concentration and type of engine coolant to prevent freezing and corrosion.
Never allow the concentration of antifreeze to exceed the 60% level or go below the 35% level or damage to the coolant system may result. For proper concentration when adding or replacing the coolant, refer to the following table.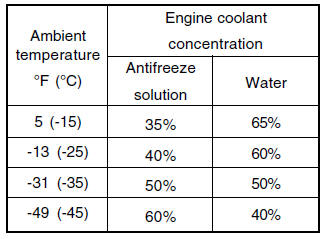 See also:
Programming HomeLink®
NOTICE • When programming a garage door opener, it is advised to park the vehicle outside of the garage.,. • It is recommended that a new battery be placed in the hand-held transmitter of the dev ...
Mode selection
The mode selection button controls the direction of the air flow through the ventilation system. The air flow outlet port is converted as follows: Air flow is directed toward the upper body an ...
HAZARD WARNING SYSTEM
The hazard warning system should be used whenever you find it necessary to stop the car in a hazardous location. When you must make such an emergency stop, always pull off the road as far as pos ...