Headrest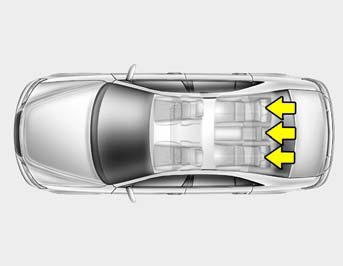 The rear seat(s) is equipped with headrests in all the seating positions for the occupant's safety and comfort.
The headrest not only provides comfort for passengers, but also helps to protect the head and neck in the event of a collision.
WARNING:
o For maximum effectiveness in case of an accident, the headrest should be adjusted so the middle of the headrest is at the same height as the center of gravity of an occupant's head. Generally, the center of gravity of most people's head is similar with the height of the top of their eyes. Also, adjust the headrest as close to your head as possible. The use of a cushion that holds the body away from the seatback is not recommended.
o Do not operate the vehicle with the headrests removed as severe injury to an occupant may occur in the event of an accident. Headrests may provide protection against severe neck injuries when properly adjusted.
See also:
2010 Hyundai Genesis Coupe review by Jim Mateja
The 2009 Hyundai Genesis sedan surprised many when it captured the North American Car of the Year award from the nation's automotive wordsmiths. Hyundai had won a loyal, if limited, following in t ...
Checking the brakes
CAUTION: Because brakes are essential to the safe operation of the car, it is suggested that they be checked and inspected by your Hyundai dealer. The brakes should be checked and inspected for w ...
Clothes hanger (if equipped)
To use the hanger, pull down the upper portion of hanger. CAUTION Do not hang heavy clothes, because it may damage the hook. ...