Loosen Wheel Nuts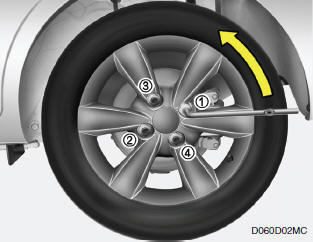 The wheel nuts should be loosened slightly before raising the car. To loosen the nuts, turn the wrench handle counterclockwise. When doing this, be sure that the socket is seated completely over the nut so it cannot slip off. For maximum leverage, position the wrench so the handle is to the right. Then, while holding the wrench near the end of the handle, pull up on it with steady pressure. Do not remove the nuts at this time. Just loosen them about one-half turn.
See also:
Air bag non-inflation conditions
• In certain low-speed collisions the air bags may not deploy. The air bags are designed not to deploy in such cases because they may not provide benefits beyond the protection of the seat belts ...
If You Lose Your Keys
If you lose your keys, many Hyundai dealers can make you a new key if you have your key number. If you lock the keys inside your car and you cannot obtain a new key, many Hyundai dealers can use ...
Cruise SET indicator
The indicator light illuminates when the cruise function switch (SET- or RES+) is ON. The cruise SET indicator light in the instrument cluster is illuminated when the cruise control switch (SET ...