Loosen Wheel Nuts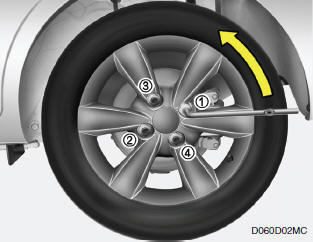 The wheel nuts should be loosened slightly before raising the car. To loosen the nuts, turn the wrench handle counterclockwise. When doing this, be sure that the socket is seated completely over the nut so it cannot slip off. For maximum leverage, position the wrench so the handle is to the right. Then, while holding the wrench near the end of the handle, pull up on it with steady pressure. Do not remove the nuts at this time. Just loosen them about one-half turn.
See also:
Cruise Control System
The cruise control system allows you to program the vehicle to maintain a constant speed without resting your foot on the accelerator pedal. This system is designed to function above approximately ...
Audio System
NOTE: If you install an aftermarket HID headlamp, your vehicle's audio and electronic device may malfunction. ...
If the Engine Overheats
If your temperature gauge indicates overheating, you experience a loss of power, or hear loud pinging or knocking, the engine is probably too hot. If this happens, you should: 1. Pull off the roa ...