Tail Gate (3 Door)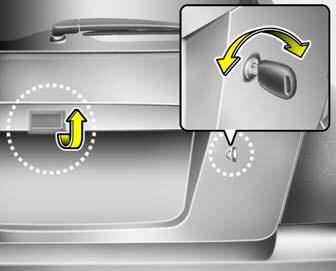 o To open the tail gate, unlock it by turning the key clockwise, then pull the outside handle toward you.
o To close, lower the tail gate and shut firmly to engage the latch. Lock the tail gate by turning the key counterclockwise.
o If the vehicle is equipped with central door locking, the tail gate can be locked without a key. Push the front portion of the central door locking switch after closing the tail gate.
o If the tail gate is open when the front portion of the central door locking switch is pushed, the tail gate will be locked when it is fully closed.
See also:
GLOVE BOX
WARNING: To avoid the possibility of injury in case of an accident or a sudden stop, the glove box door should be kept closed when the car is in motion. o To open the glove box, pull on the glov ...
Starting
Starting WARNING: Never run the engine in a closed or poorly ventilated area any longer than is needed to move your car in or out of the area. The carbon monoxide gas emitted is odorless and c ...
Vacuum, Crankcase Ventilation Hoses
Inspect the surface of hoses for evidence of heat and/or mechanical damage. Hard and brittle rubber, cracking, tears, cuts, abrasions, and excessive swelling indicate deterioration. Particular att ...