Hood Release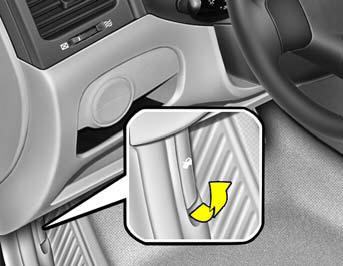 1. Pull the release knob to unlatch the hood.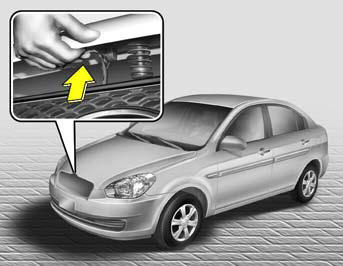 2. Pull the secondary latch lever up and lift the hood.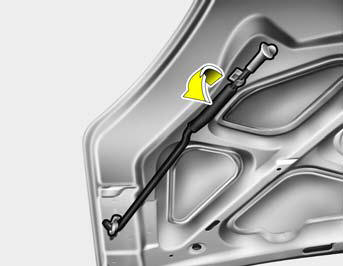 3. Pull the support rod from the hood.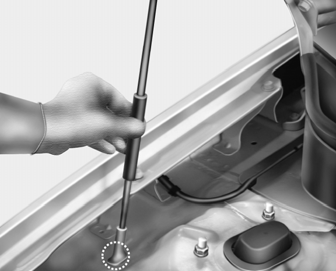 4. Hold the hood open with the support rod.
Before closing the hood, return the support rod to its clip to prevent it from rattling. Lower the hood until it is about 1 ft. (30 cm) above the closed position and let it drop. Make sure that it locks into place.
CAUTION:
Make sure that the support rod has been released prior to closing the hood.
WARNING:
o Always double check to be sure that the hood is firmly latched before driving away. If it is not latched, the hood could fly open while the vehicle is being driven, causing a total loss of visibility, which might result in an accident.
o The support rod must be inserted completely into the hole provided in the hood whenever you inspect the engine compartment. This will prevent the hood from falling and possibly injuring you.
o Do not move the vehicle with the hood in the raised position, as vision is obstructed and the hood could fall or be damaged.
See also:
Checking the brake/clutch fluid level
Check the fluid level in the reservoir periodically. The fluid level should be between MAX and MIN marks on the side of the reservoir. Before removing the reservoir cap and adding brake/clutch fl ...
Checking the engine oil level
1. Be sure the vehicle is on level ground. 2. Start the engine and allow it to reach normal operating temperature. 3. Turn the engine off and wait for a few minutes (about 5 minutes) for the oil ...
Headlamp welcome function
When the headlight switch is in the ON or AUTO position and all doors (and trunk) are closed and locked, if you press the door unlock button on the transmitter (or the smart key), the headlights w ...