LUGGAGE NET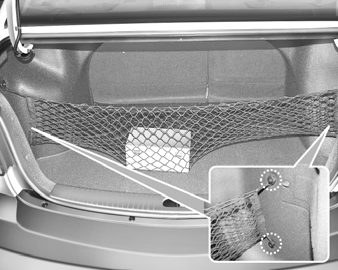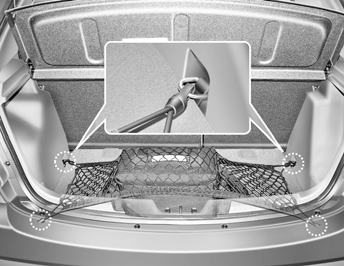 When loading the objects in the luggage compartment, use the four rings located in the luggage compartment to attach the luggage net as shown illustration. This will help prevent the objects from sliding.
CAUTION:
To prevent damage to the goods or the vehicle, care should be taken when carrying fragile or bulky objects in the luggage compartment.
WARNING:
Avoid eye injury. DO NOT overstretch the luggage net. ALWAYS keep your face and body out of its recoil path. DO NOT use when the luggage net straps have visible signs of wear or damage.
See also:
Why didn't my air bag go off in a collision? (Inflation and non-inflation conditions of the air bag)
There are many types of accidents in which the air bag would not be expected to provide additional protection. These include rear impacts, second or third collisions in multiple impact accidents, ...
Driving in flooded areas
Avoid driving through flooded areas unless you are sure the water is no higher than the bottom of the wheel hub. Drive through any water slowly. Allow adequate stopping distance because brake perf ...
Headlamp delay (if equipped)
If you turn the ignition switch to the ACC or OFF position with the headlights ON, the headlights (and/or tail lights) remain on for about 20 minutes. However, if the driver's door is opened and c ...