LUGGAGE NET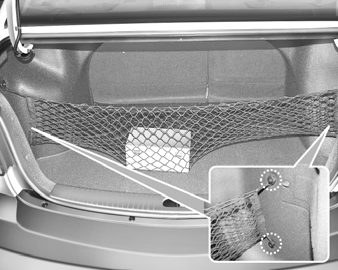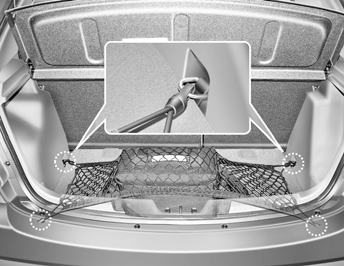 When loading the objects in the luggage compartment, use the four rings located in the luggage compartment to attach the luggage net as shown illustration. This will help prevent the objects from sliding.
CAUTION:
To prevent damage to the goods or the vehicle, care should be taken when carrying fragile or bulky objects in the luggage compartment.
WARNING:
Avoid eye injury. DO NOT overstretch the luggage net. ALWAYS keep your face and body out of its recoil path. DO NOT use when the luggage net straps have visible signs of wear or damage.
See also:
Brake hoses and lines
Visually check for proper installation, chafing, cracks, deterioration and any leakage. Replace any deteriorated or damaged parts immediately. ...
Use of E85 fuel
E85 fuel is an alternative fuel composed of 85 percent ethanol and 15 percent gasoline, and is manufactured for use in Flexible Fuel Vehicles. E85 is not compatible with your vehicle. Use of E85 m ...
Checking the Brake Fluid Level
WARNING: Use caution when handling brake fluid. It can damage your vision if it gets into your eyes. It will also damage your vehicle's paint if spilled on it and not removed immediately. ...