Trunk Lid Emergency Latch Release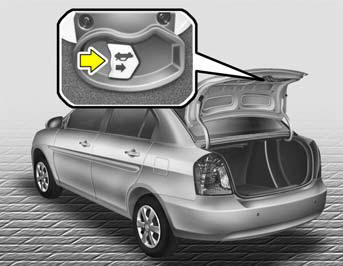 Your vehicle is equipped with a glow-inthe dark emergency trunk release lever located inside the trunk. It will glow after the trunk is closed. When pulled, this lever will release the trunk latch mechanism and open the trunk.
WARNING:
o If a person becomes locked in the trunk, pull the emergency trunk release lever of the inside panel in the trunk to open the trunk lid.
o Keep cars locked and keys out of the reach of children. HYUNDAI recommends parents teach children about the emergency trunk release lever in their vehicle and how to open the trunk lid if they are accidentally locked in the trunk.
See also:
EXTERIOR DESIGN
Not content to rest on their laurels, Hyundai's design team has sought to make a great Genesis exterior design even better for 2012. For the front view, the front grille has been enhanced, a more ...
Driving for Economy
You can save fuel and get more miles from your car if you follow these suggestions: o Drive smoothly. Accelerate at a moderate rate. Don't make "jack-rabbit" starts or full-throttle s ...
Keys
...