Trunk Lid Emergency Latch Release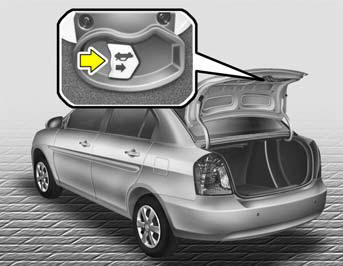 Your vehicle is equipped with a glow-inthe dark emergency trunk release lever located inside the trunk. It will glow after the trunk is closed. When pulled, this lever will release the trunk latch mechanism and open the trunk.
WARNING:
o If a person becomes locked in the trunk, pull the emergency trunk release lever of the inside panel in the trunk to open the trunk lid.
o Keep cars locked and keys out of the reach of children. HYUNDAI recommends parents teach children about the emergency trunk release lever in their vehicle and how to open the trunk lid if they are accidentally locked in the trunk.
See also:
If your vehicle must be towed
If your vehicle has to be towed, it should be done by your Hyundai dealer or a commercial tow truck service. This will help assure that your vehicle is not damaged in towing. Also, professionals a ...
Replacement of light bulbs
Before attempting to replace a light bulb, be sure the switch is turned to the "OFF" position. The next paragraph shows how to reach the light bulbs so they may be changed. Be sure to re ...
Driving for economy
You can save fuel and get more miles from your car if you follow these suggestions: o Drive smoothly. Accelerate at a moderate rate. Don't make "jack-rabbit" starts or fullthrottle shift ...