FLOOR MAT ANCHOR(S)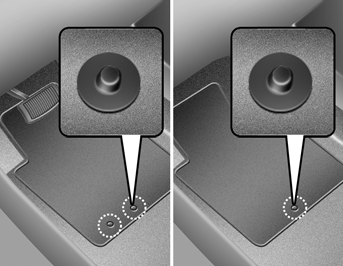 When using a floor mat on the front floor carpet, make sure it attaches to the floor mat anchor(s) in your vehicle. This keeps the floor mat from sliding forward.
WARNING:
The following must be observed when installing ANY floor mat to the vehicle.
o Ensure that the floor mats are securely attached to the vehicle's floor mat anchor(s) before driving the vehicle.
o Do not use ANY floor mat that cannot be firmly attached to the vehicle's floor mat anchors.
o Do not stack floor mats on top of one another (e.g. all-weather rubber mat on top of a carpeted floor mat). Only a single floor mat should be installed in each position.
IMPORTANT - Your vehicle was manufactured with driver's side floor mat anchors that are designed to securely hold the floor mat in place. To avoid any interference with pedal operation, HYUNDAI recommends that only the HYUNDAI floor mat designed for use in your vehicle be installed.
See also:
ADVANCED STANDARD SAFETY TECHNOLOGIES: PART OF HYUNDAI'S ASSURANCE COMMITMENT
Hyundai Elantra was one of the first compact sedans with ESC when it launched in July of 2007. The 2011 Elantra now takes compact car safety to the next level with the introduction of Vehicle Stabil ...
Keeping the Condenser Clean
The air conditioner condenser (and engine radiator) should be checked periodically for accumulation of dirt, dead insects, leaves, etc. These can interfere with maximum cooling efficiency. When re ...
Consumer information
This consumer information has been prepared in accordance with regulations issued by the National Highway Traffic Safety Administration of the U.S. Department of Transportation. It provides the pu ...