FLOOR MAT ANCHOR(S)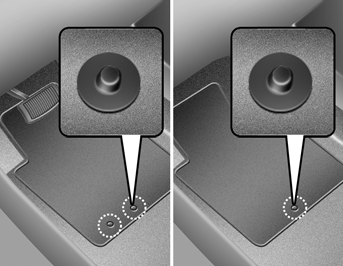 When using a floor mat on the front floor carpet, make sure it attaches to the floor mat anchor(s) in your vehicle. This keeps the floor mat from sliding forward.
WARNING:
The following must be observed when installing ANY floor mat to the vehicle.
o Ensure that the floor mats are securely attached to the vehicle's floor mat anchor(s) before driving the vehicle.
o Do not use ANY floor mat that cannot be firmly attached to the vehicle's floor mat anchors.
o Do not stack floor mats on top of one another (e.g. all-weather rubber mat on top of a carpeted floor mat). Only a single floor mat should be installed in each position.
IMPORTANT - Your vehicle was manufactured with driver's side floor mat anchors that are designed to securely hold the floor mat in place. To avoid any interference with pedal operation, HYUNDAI recommends that only the HYUNDAI floor mat designed for use in your vehicle be installed.
See also:
Good driving practices
• Never take the vehicle out of gear and coast down a hill. This is extremely hazardous. Always leave the vehicle in gear. • Do not "ride" the brakes. This can cause them to overheat and ...
Using the Clutch
The clutch should be pressed all the way to the floor before shifting, then released slowly. Do not rest your foot on the clutch pedal while driving. This can cause unnecessary wear. Do not parti ...
FUN-TO-DRIVE
The 2010 Hyundai Tucson's athletic shape is now complemented with more agile handling, responsive steering and improved body roll control. These enhancements make the new Tucson more fun-to-drive. ...