FLOOR MAT ANCHOR(S)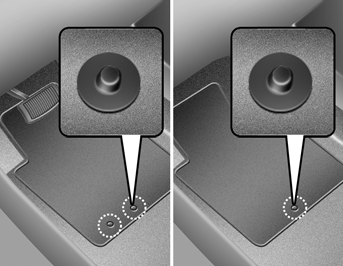 When using a floor mat on the front floor carpet, make sure it attaches to the floor mat anchor(s) in your vehicle. This keeps the floor mat from sliding forward.
WARNING:
The following must be observed when installing ANY floor mat to the vehicle.
o Ensure that the floor mats are securely attached to the vehicle's floor mat anchor(s) before driving the vehicle.
o Do not use ANY floor mat that cannot be firmly attached to the vehicle's floor mat anchors.
o Do not stack floor mats on top of one another (e.g. all-weather rubber mat on top of a carpeted floor mat). Only a single floor mat should be installed in each position.
IMPORTANT - Your vehicle was manufactured with driver's side floor mat anchors that are designed to securely hold the floor mat in place. To avoid any interference with pedal operation, HYUNDAI recommends that only the HYUNDAI floor mat designed for use in your vehicle be installed.
See also:
Change to "winter weight" oil if necessary
In some climates it is recommended that a lower viscosity "winter weight" oil be used during cold weather. See section 8 for recommendations. If you aren't sure what weight oil you s ...
Theft-Alarm System
This system is designed to provide protection from unauthorized entry into the car. This system is operated in three stages: the first is the "Armed" stage, the second is the "Alarm ...
Used Hyundai Accent Models
The current-generation Hyundai Accent dates back to 2006, when it was introduced in sedan body style only -- the two-door hatchback arrived a year later. There was a slight bump in fuel economy fo ...