FLOOR MAT ANCHOR(S)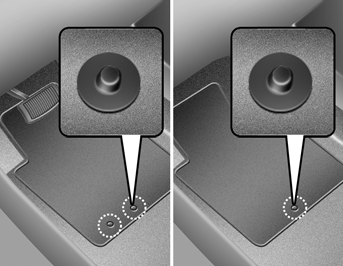 When using a floor mat on the front floor carpet, make sure it attaches to the floor mat anchor(s) in your vehicle. This keeps the floor mat from sliding forward.
WARNING:
The following must be observed when installing ANY floor mat to the vehicle.
o Ensure that the floor mats are securely attached to the vehicle's floor mat anchor(s) before driving the vehicle.
o Do not use ANY floor mat that cannot be firmly attached to the vehicle's floor mat anchors.
o Do not stack floor mats on top of one another (e.g. all-weather rubber mat on top of a carpeted floor mat). Only a single floor mat should be installed in each position.
IMPORTANT - Your vehicle was manufactured with driver's side floor mat anchors that are designed to securely hold the floor mat in place. To avoid any interference with pedal operation, HYUNDAI recommends that only the HYUNDAI floor mat designed for use in your vehicle be installed.
See also:
Checking and replacing fuses
Replacing a Fusible Link A fusible link will melt if the electrical circuits from the battery are ever overloaded, thus preventing damage to the entire wiring harness. (This could be caused by a ...
Front door edge warning light
A red light comes on when the front door is opened. The purpose of this light is to assist when you get in or out and also to warn passing vehicles. ...
Tire sidewall labeling
Federal law requires tire manufacturers to place standardized information on the sidewall of all tires. This information identifies and describes the fundamental characteristics of the tire and ...