Tail Gate (3 Door)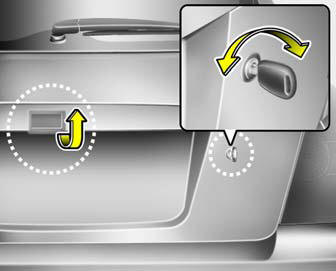 o To open the tail gate, unlock it by turning the key clockwise, then pull the outside handle toward you.
o To close, lower the tail gate and shut firmly to engage the latch. Lock the tail gate by turning the key counterclockwise.
o If the vehicle is equipped with central door locking, the tail gate can be locked without a key. Push the front portion of the central door locking switch after closing the tail gate.
o If the tail gate is open when the front portion of the central door locking switch is pushed, the tail gate will be locked when it is fully closed.
See also:
When to Replace Tires
The original tires on your car have tread wear indicators. The location of tread wear indicators is shown by the "TWI" or "" marks, etc., The tread wear indicators appear whe ...
Use of E85 fuel
E85 fuel is an alternative fuel composed of 85 percent ethanol and 15 percent gasoline, and is manufactured for use in Flexible Fuel Vehicles. E85 is not compatible with your vehicle. Use of E85 m ...
Engine
...