Tail Gate (3 Door)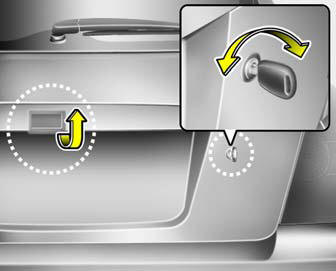 o To open the tail gate, unlock it by turning the key clockwise, then pull the outside handle toward you.
o To close, lower the tail gate and shut firmly to engage the latch. Lock the tail gate by turning the key counterclockwise.
o If the vehicle is equipped with central door locking, the tail gate can be locked without a key. Push the front portion of the central door locking switch after closing the tail gate.
o If the tail gate is open when the front portion of the central door locking switch is pushed, the tail gate will be locked when it is fully closed.
See also:
Review: 2012 Hyundai Accent GLS Sedan
The Hyundai Accent has never been a "gotta have it" sort of car. Instead, it's been a "what's the cheapest thing you got?" sort of car. The 2011 started at just $9,985 (plus shipping and handling) ...
Features
The Genesis won't confuse you with option packages or trim levels: Only the 3.8 has option packages to choose from, and there are only two. The Genesis 3.8 starts at $34,200 and comes equipped wit ...
To temporarily accelerate with the cruise control on
If you want to speed up temporarily when the cruise control is on, depress the accelerator pedal. Increased speed will not interfere with cruise control operation or change the set speed. To retu ...