Tail Gate (3 Door)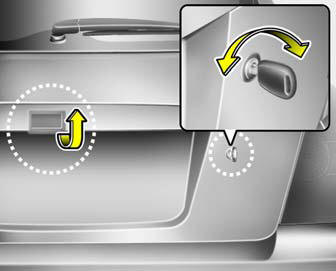 o To open the tail gate, unlock it by turning the key clockwise, then pull the outside handle toward you.
o To close, lower the tail gate and shut firmly to engage the latch. Lock the tail gate by turning the key counterclockwise.
o If the vehicle is equipped with central door locking, the tail gate can be locked without a key. Push the front portion of the central door locking switch after closing the tail gate.
o If the tail gate is open when the front portion of the central door locking switch is pushed, the tail gate will be locked when it is fully closed.
See also:
Raising the Car
After inserting a wrench bar into the wheel nut wrench, install the wrench bar into the jack as shown in the drawing. To raise the vehicle, turn the wheel nut wrench clockwise. As the jack begin ...
MODERN, SOPHISTICATED INTERIOR
Inside the Hyundai Elantra, customers will find Hyundai's expertise in interior packaging, lighting, leading-edge design and craftsmanship. This approach is visible in the clarity of the instrumen ...
Record Your Key Number
A code number is recorded on the number tag that came with the keys to your Hyundai. This key number tag should not be left with the keys but kept in a safe place, not in the vehicle. The key nu ...