SUN VISOR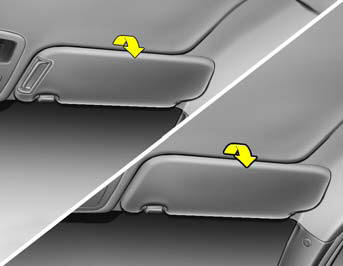 Your Hyundai is equipped with sun visors to give the driver and front passenger either frontal or sideward shade. To reduce glare or to shut out direct rays of the sun, turn the sun visor down.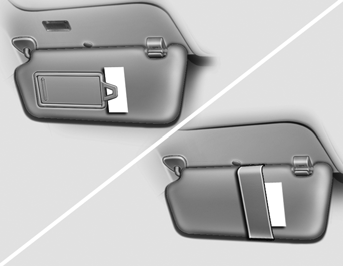 Ticket holders and vanity mirrors are provided on the back of the sun visor for the driver and the front passenger (If Installed).
NOTE:
The Supplemental Restraint System (SRS) label containing useful information can be found on the topside of sun visor.
WARNING:
o Do not place the sun visor in such a manner that it obscures visibility of the roadway, traffic or other objects.
WARNING:
o Do not move the sun visor out to cover the side window if there is an item attended to it such as a garage door remote control, pens, air fresheners or the like. These objects could cause injury if the curtain airbag is deployed.
See also:
Air cnditioning care
Keeping the Condenser Clean The air conditioning condenser (and engine radiator) should be checked periodically for accumulation of dirt, dead insects, leaves, etc. These can interfere with maximu ...
2011 Hyundai Sonata review Warren Brown
This has to do with ethnic and national pride, lingering anger over past wrongs done by one side or another, and, from a historical perspective, the kind of raw hatred that long has proved fertile ...
Sun Visor Extender
Your vehicle is equipped with sun visor extenders that may be used when the visor is in the side glass position. ...