SUN VISOR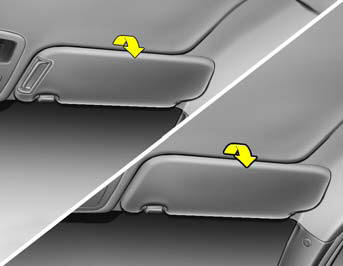 Your Hyundai is equipped with sun visors to give the driver and front passenger either frontal or sideward shade. To reduce glare or to shut out direct rays of the sun, turn the sun visor down.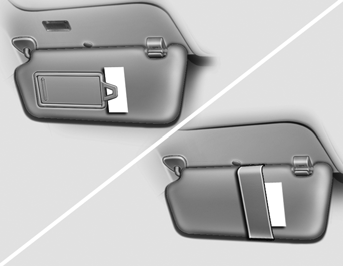 Ticket holders and vanity mirrors are provided on the back of the sun visor for the driver and the front passenger (If Installed).
NOTE:
The Supplemental Restraint System (SRS) label containing useful information can be found on the topside of sun visor.
WARNING:
o Do not place the sun visor in such a manner that it obscures visibility of the roadway, traffic or other objects.
WARNING:
o Do not move the sun visor out to cover the side window if there is an item attended to it such as a garage door remote control, pens, air fresheners or the like. These objects could cause injury if the curtain airbag is deployed.
See also:
Front Turn Signal light
1. Open the engine hood and disconnect the negative (-) post of the battery. 2. Disconnect the power cord from the bulb. 3. Take out the bulb from the bulb holder by turning it counterclockwise. ...
Placing a passenger seat belt into the automatic locking mode
The automatic locking mode will help prevent the normal movement of the child in the vehicle from causing the seat belt to loosen and compromise the child restraint system. To secure a chi ...
DIRECT INJECTION LAMBDA 3.8-LITER ENGINE
In keeping with its 5.0-liter V8 sibling, the Hyundai Genesis 3.8-liter Lambda engine will receive direct injection (GDI) technology, boosting its output 15 percent from 290 to 333 horsepower, an ...