SUN VISOR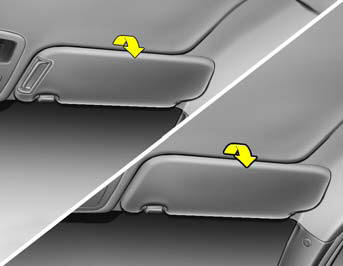 Your Hyundai is equipped with sun visors to give the driver and front passenger either frontal or sideward shade. To reduce glare or to shut out direct rays of the sun, turn the sun visor down.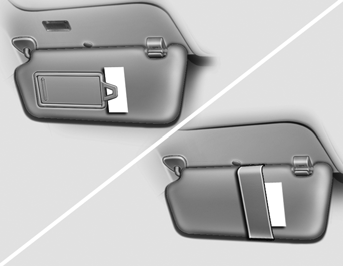 Ticket holders and vanity mirrors are provided on the back of the sun visor for the driver and the front passenger (If Installed).
NOTE:
The Supplemental Restraint System (SRS) label containing useful information can be found on the topside of sun visor.
WARNING:
o Do not place the sun visor in such a manner that it obscures visibility of the roadway, traffic or other objects.
WARNING:
o Do not move the sun visor out to cover the side window if there is an item attended to it such as a garage door remote control, pens, air fresheners or the like. These objects could cause injury if the curtain airbag is deployed.
See also:
Имущественное страхование и договор
Человеку всегда было присуще желание как-то обезопасить себя от вредоносных последствий жизни или хотя бы попытаться свести их к минимуму. Для одних это связано с опасной работой, где высока доля р ...
Tire Terminology and Definitions
Air Pressure: The amount of air inside the tire pressing outward on the tire. Air pressure is expressed in pounds per square inch (psi) or kilopascal (kPa). Accessory Weight: This means the combine ...
Lubrication Chart
* : If the API service SM engine oil is not available in your country, you are able to use API service SL. ...