SUN VISOR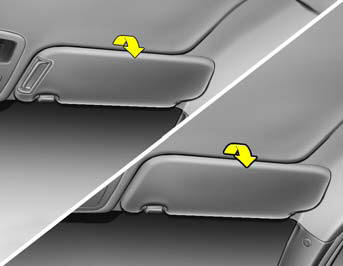 Your Hyundai is equipped with sun visors to give the driver and front passenger either frontal or sideward shade. To reduce glare or to shut out direct rays of the sun, turn the sun visor down.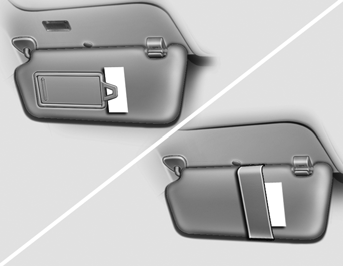 Ticket holders and vanity mirrors are provided on the back of the sun visor for the driver and the front passenger (If Installed).
NOTE:
The Supplemental Restraint System (SRS) label containing useful information can be found on the topside of sun visor.
WARNING:
o Do not place the sun visor in such a manner that it obscures visibility of the roadway, traffic or other objects.
WARNING:
o Do not move the sun visor out to cover the side window if there is an item attended to it such as a garage door remote control, pens, air fresheners or the like. These objects could cause injury if the curtain airbag is deployed.
See also:
Coolant
The coolant should be changed at the intervals specified in the maintenance schedule. ...
Checking the Transaxle Fluid (Automatic)
Transaxle fluid in the automatic transaxle should be checked at those intervals specified in the vehicle maintenance schedule in Section 5. NOTE: Automatic transaxle fluid is basically a red color ...
Tire maintenance
In addition to proper inflation, correct wheel alignment helps to decrease tire wear. If you find a tire is worn unevenly, have your dealer check the wheel alignment. When you have new tires instal ...