Filter inspection
The climate control air filter should be replaced according to the Maintenance Schedule. If the vehicle is operated in severely air-polluted cities or on dusty rough roads for a long period, it should be inspected more frequently and replaced earlier. When you replace the climate control air filter, replace it performing the following procedure, and be careful to avoid damaging other components.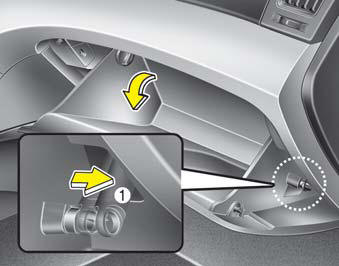 See also:
Driving at night
Because night driving presents more hazards than driving in the daylight, here are some important tips to remember: • Slow down and keep more distance between you and other vehicles, as it may ...
NEW 5.0 R-SPEC: MOST POWERFUL HYUNDAI V8 ENGINE EVER
The heart of the Hyundai Genesis 5.0 R-Spec model is a new Tau V8 engine producing 429 horsepower at 6,400 rpm and 376 lb. ft. of torque at 5,000 rpm. This new Tau V8 represents the most powerful ...
Имущественное страхование и договор
Человеку всегда было присуще желание как-то обезопасить себя от вредоносных последствий жизни или хотя бы попытаться свести их к минимуму. Для одних это связано с опасной работой, где высока доля р ...