Lower Vehicle and Tighten Nuts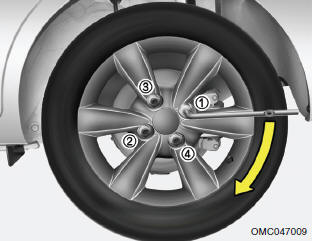 Lower the car to the ground by turning the wheel nut wrench counterclockwise. Then position the wrench as shown in the drawing and tighten the wheel nuts. Be sure the socket is seated completely over the nut. Do not stand on the wrench or use an extension pipe over the wrench handle.
Go around the wheel tightening every other nut until they are all tight. Then double-check each nut for tightness. After changing wheels, have a technician tighten the wheel nuts to their proper torque as soon as possible.
Wheel nut tightening torque:
Steel wheel & aluminium alloy wheel: 65-80 lb.ft (900-1,100 kg.cm)
See also:
Anti-lock brake system (ABS)
WARNING ABS (or ESC) will not prevent accidents due to improper or dangerous driving maneuvers. Even though vehicle control is improved during emergency braking, always maintain a safe distance b ...
Checking the Brake Fluid Level
WARNING: Use caution when handling brake fluid. It can damage your vision if it gets into your eyes. It will also damage your vehicle's paint if spilled on it and not removed immediately. ...
112,500 miles (180,000 km) or 90 months
❑ Inspect air cleaner filter ❑ Inspect vacuum hose ❑ Inspect manual transaxle fluid (if equipped) ❑ Replace engine oil and filter (112,500 miles (180,000 km) or 180 mont ...