High beam operation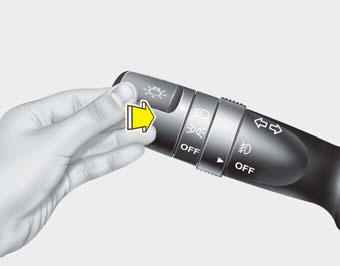 To turn on the high beam headlights, push the lever away from you. Pull it back for low beams.
The high beam indicator will light when the headlight high beams are switched on.
To prevent the battery from being discharged, do not leave the lights on for a prolonged time while the engine is not running.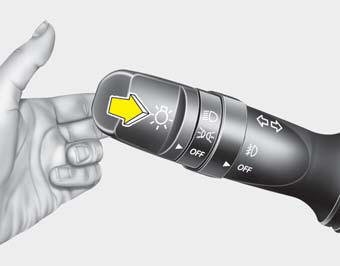 To flash the headlights, pull the lever towards you. It will return to the normal (low beam) position when released. The headlight switch does not need to be on to use this flashing feature.
See also:
Good driving practices
• Never take the vehicle out of gear and coast down a hill. This is extremely hazardous. Always leave the vehicle in gear. • Do not "ride" the brakes. This can cause them to overheat and ...
Tire Information
The tires supplied on your new Hyndai are chosen to provide the best performance for normal driving. If you ever have questions about your tire warranty and where to obtain service, see the tire m ...
Changes for 2010
The biggest change for the 2010 Accent is its mileage. All trim levels see at least a 1 mpg bump, and the all-new base trim level, called Blue, gets a large jump versus the 2009 base model. The Bl ...