Battery replacement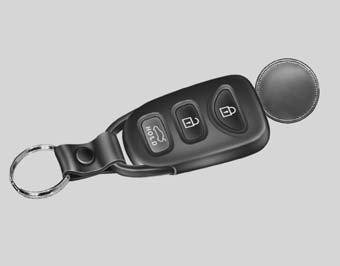 The transmitter uses a 3 volt lithium battery which will normally last for several years. When replacement is necessary, use the following procedure.
1. Insert a slim tool into the slot and gently pry open the transmitter center cover.
2. Replace the battery with a new battery (CR2032). When replacing the battery, make sure the battery positive У+Ф symbol faces up.
3. Install the battery in the reverse order of removal.
For replacement transmitters, see an authorized HYUNDAI dealer for transmitter reprogramming.
CAUTION
Х The transmitter is designed to give you years of trouble-free use, however it can malfunction if exposed to moisture or static electricity. If you are unsure how to use your transmitter or replace the battery, contact an authorized HYUNDAI dealer.
Х Using the wrong battery can cause the transmitter to malfunction. Be sure to use the correct battery.
Х To avoid damaging the transmitter, don't drop it, get it wet, or expose it to heat or sunlight.
CAUTION
An inappropriately disposed battery can be harmful to the environment and human health.
Dispose the battery according to your local law(s) or regulation.
See also:
Interior Light
The interior courtesy light switch has three positions. The three positions are: o "DOOR" In the "DOOR" position, the interior courtesy light comes on when any door is opened ...
Exhaust Emission Control System
The Exhaust Emission Control System is a highly effective system which controls exhaust emissions while maintaining good vehicle performace. ...
Gasoline containing alcohol and methanol
Gasohol, a mixture of gasoline and ethanol (also known as grain alcohol), and gasoline or gasohol containing methanol (also known as wood alcohol) are being marketed along with or instead of leade ...