Inside rearview mirror
Adjust the rearview mirror so that the center view through the rear window is seen. Make this adjustment before you start driving.
WARNING - Rear visibility
Do not place objects in the rear seat or cargo area which would interfere with your vision through the rear window.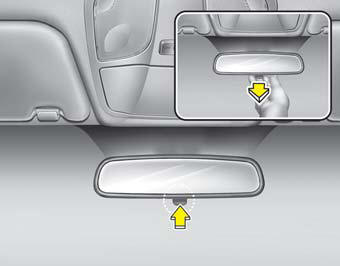 Day/night rearview mirror
Make this adjustment before you start driving and while the day/night lever is in the day position.
Pull the day/night lever toward you to reduce glare from the headlights of the vehicles behind you during night driving. Remember that you lose some rearview clarity in the night position.
Electric chromic mirror (ECM) with HomeLink® system and compass (if equipped)
Your vehicle may be equipped with a Gentex Automatic-Dimming Mirror with a Z-Nav™ Electronic Compass Display and an Integrated HomeLink® Wireless Control System. During nighttime driving, this feature will automatically detect and reduce rearview mirror glare while the compass indicates the direction the vehicle is pointed. The HomeLink® Universal Transceiver allows you to activate your garage door(s), electric gate, home lighting, etc.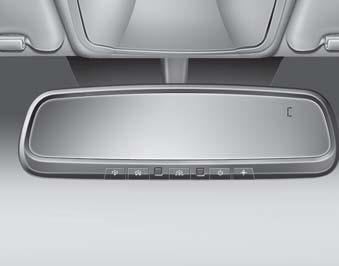 (1) Channel 1 button
(2) Channel 2 button
(3) Status indicator LED (4) Channel 3 button
(5) Rear light sensor
(6) Dimming ON/OFF button (7) Compass control button (8) Compass display
Automatic-Dimming Night Vision Safety™ (NVS®) Mirror
The NVS® Mirror in your vehicle is the most advanced way to reduce annoying glare in the rearview mirror during any driving situation. For more information regarding NVS® mirrors and other applications, please refer to the Gentex website: www.gentex.com
CAUTION
The NVS® Mirror automatically reduces glare during driving conditions based upon light levels monitored in front of the vehicle and from the rear of the vehicle. These light sensors are visible through openings in the front and rear of the mirror case. Any object that obstructs either light sensor will degrade the automatic dimming control feature.
See also:
Cooling system
Check cooling system components, such as radiator, coolant reservoir, hoses and connections for leakage and damage. Replace any damaged parts. ...
Automatic Transaxle
The highly efficient Hyundai automatic transaxle has four forward speeds and one reverse speed. It has a conventional shift pattern as shown in the illustration. CAUTION: Never shift into " ...
Manual transaxle
...