Opening the hood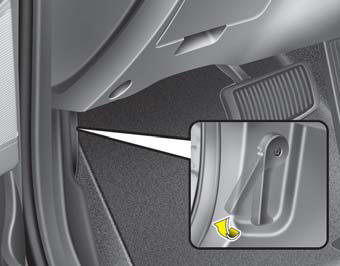 1. Pull the release lever to unlatch the hood. The hood should pop open slightly.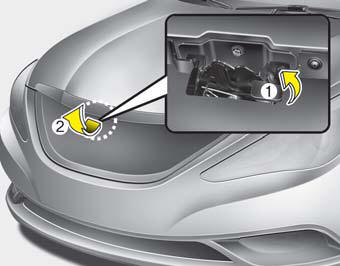 2. Go to the front of the vehicle, raise the hood slightly, pull the secondary latch (1) inside of the hood center and lift the hood (2).
3. Raise the hood. It will raise completely by itself after it has been raised about halfway.
See also:
To Clean the Leather Upholstery
In the normal course of use, leather upholstered surfaces will, like any material, pick-up dust and dirt. This dust and dirt must be cleaned off or it may work into the surface of the leather, cau ...
To Remove the Ignition Key
1. Turn the ignition key to the "ACC" position. 2. Simultaneously push and turn the ignition key counterclockwise from the "ACC" position to the "LOCK" position. 3. ...
ESC OFF usage
When driving • ESC should be turned on for daily driving whenever possible. • To turn ESC off while driving, press the ESC OFF button while driving on a flat road surface. Never press the ESC OFF ...