Tail gate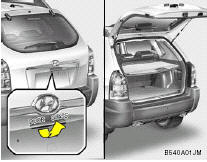 o Pull and raise the "DOOR" release lever to open the tail gate.
o To close, lower the door, then press down on it until it locks. To be sure the door is securely fastened, try to pull it up again.
WARNING:
The tail gate should always be kept completely closed while the vehicle is in motion.
If it is left open or ajar, poisonous exhaust gases may enter the car resulting in serious illness or death to the occupants. See additional warnings concerning exhaust gases.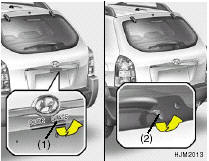 Tail gate Window
o Pull the "GLASS" release lever (1) to open the tailgate window glass, and raise the window open lever (2).
o To close the tail gate window, lower the tail gate window, and it will close by itself.
To be sure the tail gate window is securely fastened, try to pull it up again.
NOTE:
The tail gate window lock is operated in connection with the tail gate lock. To open the tail gate window make sure the tailgate is unlocked with a key or the central door locking switch.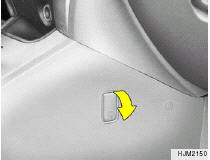 SHOPPING BAG HOLDERS (If installed)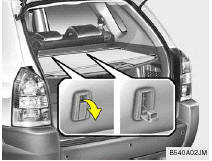 Shopping bag holders are located in the front console and on the backside of the rear seat.
When not in use, return it to the original position.
CAUTION:
o Do not hang a bag beyond 6 Ibs (3 kg).
It may cause damage to the shopping bag holder.
o Return it to the original position after using the shopping bag holder.
See also:
Trailer or vehicle towing
If you are considering towing with your car, you should first check with your State's Department of Motor Vehicles to determine their legal requirements. Since laws vary from State to State the req ...
Using the Clutch
The clutch should be pressed all the way to the floor before shifting, then released slowly. Do not rest your foot on the clutch pedal while driving. This can cause unnecessary wear. Do not parti ...
Engine coolant
The high-pressure cooling system has a reservoir filled with year-round antifreeze coolant. The reservoir is filled at the factory. Check the antifreeze protection and coolant level at least once a ...