Trunk Lid Emergency Latch Release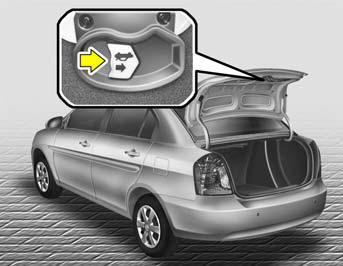 Your vehicle is equipped with a glow-inthe dark emergency trunk release lever located inside the trunk. It will glow after the trunk is closed. When pulled, this lever will release the trunk latch mechanism and open the trunk.
WARNING:
o If a person becomes locked in the trunk, pull the emergency trunk release lever of the inside panel in the trunk to open the trunk lid.
o Keep cars locked and keys out of the reach of children. HYUNDAI recommends parents teach children about the emergency trunk release lever in their vehicle and how to open the trunk lid if they are accidentally locked in the trunk.
See also:
Checking the Brakes
CAUTION: Because brakes are essential to the safe operation of the car, it is suggested that they be checked and inspected by your Hyundai dealer. The brakes should be checked and inspected for w ...
Wheel replacement
When replacing the metal wheels for any reason, make sure the new wheels are equivalent to the original factory units in diameter, rim width and offset. WARNING A wheel that is not the correct siz ...
If engine stalls while driving
1. Reduce your speed gradually, keeping a straight line. Move cautiously off the road to a safe place. 2. Turn on your emergency flashers. 3. Try to start the engine again. If your vehicle will no ...