Center console conpartment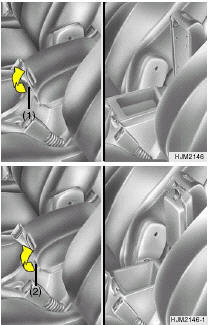 Center Console Box
The center console box is used for storing cassette tapes or small articles.
To use the center console box, pull up the handle (1) or (2) lift the lid as shown.
WARNING:
To avoid the possibility of injury in case of an accident or a sudden stop, the center console box lid should be kept closed when the car is in motion.

Center Console Armrest (If Installed)
The center console box can be used as armrest.
To use the console armrest, pull out the console box lid by pulling up the handle as shown.
NOTE:
When not in use, always be sure it is locked in position properly.
WARNING:
Do not place cups or cans in the drink holder when the console box lid is used as an armrest. It may result in spilling the beverage. A spilled beverage that is very hot can injure you or your passengers. Spilled liquids can damage interior trim and electric components.
See also:
Turn Signal Indicator Lights
The blinking green arrow on the instrument panel shows the direction indicated by the turn signals. If the arrow comes on but does not blink, blinks more rapidly than normal, or does not blink a ...
To keep locks from freezing
To keep the locks from freezing, squirt an approved de-icer fluid or glycerine into the key opening. If a lock is covered with ice, squirt it with an approved de-icing fluid to remove the ice. If ...
Electronic stability control (ESC) system
(If installed) WARNING: Never drive too fast for the road conditions or too quickly when cornering. Electronic stability control (ESC) will not prevent accidents. Excessive speed in turns, abrupt ...