Power Connector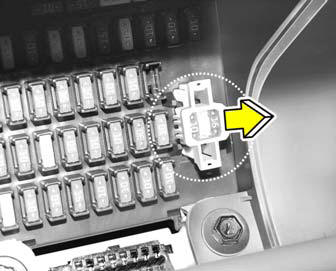 Your vehicle is equipped with a power connector to prevent battery discharge if your vehicle is parked without being operated for prolonged periods. Use the following procedures before parking the vehicle for prolonged periods.
1. Turn off the engine.
2. Turn off the headlights and tail lights.
3. Open the driver's side panel cover and pull up the power connector.
4. Insert the power connector in the opposite direction.
NOTE:
o If the power connector is pulled up from the fuse panel, the warning chime, audio, clock and interior lamps, etc., will not operate. The following items must be reset after replacement.
- Digital Clock
- Trip computer
- Automatic heating and cooling control system - Audio
o Even when the power connector is pulled up, the battery can still be discharged by operation of the headlights or other electrical devices.
See also:
Spare Tire Pressure
2. The spare tire should only be used temporarily and should be returned to the luggage compartment as soon as the original tire can be repaired or replaced. 3. Continuous use at speeds of over 5 ...
Canister
Fuel vapors generated inside the fuel tank are absorbed and stored in the onboard canister. When the engine is running, the fuel vapors absorbed in the canister are drawn into the induction system ...
Blade inspection
NOTICE Commercial hot waxes applied by automatic car washes have been known to make the windshield difficult to clean. Contamination of either the windshield or the wiper blades with foreign mat ...