Re-install Wheel Nuts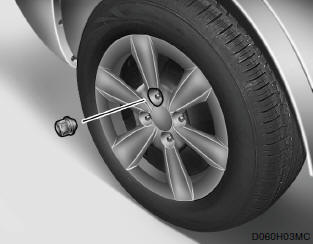 To reinstall the wheel cover, hold it on the studs, put the wheel nuts on the studs and tighten them finger tight. The nuts should be installed with their small diameter ends directed inward. Jiggle the tire to be sure it is completely seated, then tighten the nuts as much as possible with your fingers again.
See also:
SAFETY
The 2011 Sonata has been named a Top Safety Pick by the Insurance Institute for Highway Safety. To earn this safety nod, a car must receive the top score of Good in front-, side-impact, rear and r ...
2012 Hyundai Genesis review
When it made its 2009 debut, Hyundai's flagship sedan, the Genesis, was a marvel. It offered rear-wheel drive, a potent V-8 option and an interior nearly on par with those of Lexus and Acura. It w ...
1. Crankcase emission control system
The positive crankcase ventilation system is employed to prevent air pollution caused by blow-by gases being emitted from the crankcase. This system supplies fresh filtered air to the crankcase th ...