Handling the Spare Tire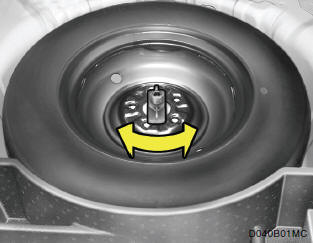 Remove the installation bolt to remove the spare tire. To replace the spare tire in its storage compartment, tighten the bolt firmly with your fingers until there is no more play in the spare tire.
See also:
Starting
Starting WARNING: Never run the engine in a closed or poorly ventilated area any longer than is needed to move your car in or out of the area. The carbon monoxide gas emitted is odorless and c ...
To Check the Oil Level
Before checking the oil, warm up the engine to the normal operating temperature and be sure it is parked on level ground. Turn the engine off. Wait five minutes, then remove the dipstick, wipe it ...
Drive belts
Inspect all drive belts for evidence of cuts, cracks, excessive wear or oil saturation and replace if necessary. Drive belts should be checked periodically for proper tension and adjusted as neces ...