CIGARETTE LIGHTER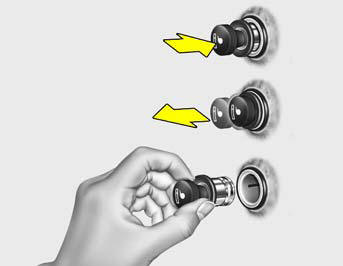 For the cigarette lighter to work, the key must be in the "ACC" position or the "ON" position.
To use the cigarette lighter, push it all the way into its socket. When the element has heated, the lighter will pop out to the "ready" position.
Do not hold the cigarette lighter pressed in. This can damage the heating element and create a fire hazard.
If it is necessary to replace the cigarette lighter, use only a genuine Hyundai replacement or its approved equivalent.
See also:
Multi-function light switch
COMBINATION TURN SIGNAL, HEADLIGHT AND HIGH-BEAM SWITCH Turn Signal Operation Pulling down on the lever causes the turn signals on the left side of the car to blink. Pushing upwards on the lever c ...
2010 TUCSON 61 POUNDS LIGHTER THAN THE OUTGOING MODEL DESPITE BEING THREE INCHES LONGER
World-class weight efficiency was one of the program targets for the Hyundai Tucson engineering team. In fact, the 2010 Tucson leads all of its competitors in weight efficiency. Hyundai engineers ...
Snow tires
If you equip your car with snow tires, they should be the same size and have the same load capacity as the original tires. Snow tires should be installed on all four wheels; otherwise, poor handli ...