If Engine Turns Over Normally but Does Not Start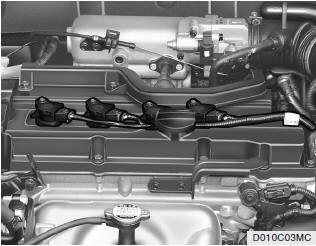 1. Check fuel level.
2. With the key in the "OFF" position, check all connectors at ignition coil and spark plugs. Reconnect any that may be disconnected or loose.
3. Check the fuel line in the engine room.
4. If the engine still refuses to start, call a Hyundai dealer or seek other qualified assistance.
See also:
52,500 miles (84,000 km) or 42 months
❑ Inspect air cleaner filter ❑ Inspect vacuum hose ❑ Replace engine oil and filter (52,500 miles (84,000 km) or 84 months) ...
Checking and changing the engine coolant
WARNING: Do not remove the radiator cap when the engine is hot. When the engine is hot, the engine coolant is under pressure and may erupt through the opening if the cap is removed. You could be ...
Summer tires
HYUNDAI specifies summer tires on some models to provide superior performance on dry roads. Summer tire performance is substantially reduced in snow and ice. Summer tires do not have the tire trac ...