If Engine Turns Over Normally but Does Not Start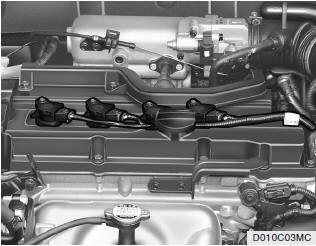 1. Check fuel level.
2. With the key in the "OFF" position, check all connectors at ignition coil and spark plugs. Reconnect any that may be disconnected or loose.
3. Check the fuel line in the engine room.
4. If the engine still refuses to start, call a Hyundai dealer or seek other qualified assistance.
See also:
Emergency trunk safety release
Your vehicle is equipped with an emergency trunk release cable located inside the trunk. The lever glows in the dark when the trunk lid is closed. If someone is inadvertently locked in the trunk ...
Checking and replacing fuses
Replacing a Fusible Link A fusible link will melt if the electrical circuits from the battery are ever overloaded, thus preventing damage to the entire wiring harness. (This could be caused by a ...
Checking and Changing the Engine Coolant
WARNING: Do not remove the radiator cap when the engine is hot. When the engine is hot, the engine coolant is under pressure and may erupt through the opening if the cap is removed. You could be ...