CARE OF DISCS
Proper Handling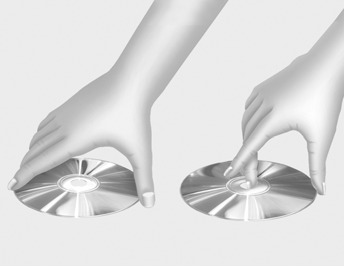 Handle your disc as shown. Do not drop the disc. Hold the disc so you will not leave fingerprints on the surface. If the surface is scratched, it may cause the pickup to skip signal tracks. Do not affix tape, paper, or gummed labels on the disc. Do not write on the disc.
Damaged Disc
Do not attempt to play damaged, warped or cracked discs. These could severely damage the playback mechanism.
Storage
When not in use, place your discs in their individual cases and store them in a cool place away from the sun, heat, and dust. Do not grip or pull out the disc with your hand while the disc is being pulled into the unit by the self loading mechanism.
Keep Your Discs Clean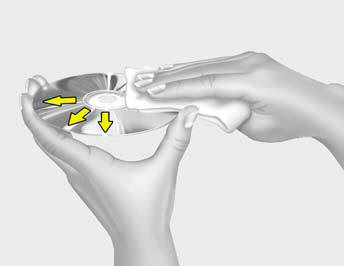 Fingerprints, dust, or soil on the surface of a disc could cause the pickup to skip signal tracks. Wipe the surface clean with a clean soft cloth.
If the surface is heavily soiled, dampen a clean soft cloth in a solution of mild neutral detergent to wipe it clean.
See also:
Genesis Coupe in the Market
Whether you'll like the Genesis coupe depends a lot on how hard you'll drive it. While sports car enthusiasts might not be fully satisfied with its dynamics, shoppers looking for a nicely equipped ...
If You Lose Your Keys
If you lose your keys, many Hyundai dealers can make you a new key if you have your key number. If you lock the keys inside your car and you cannot obtain a new key, many Hyundai dealers can use ...
INFINITY® AUDIO SYSTEM
Audio enthusiasts with even more demanding tastes will be impressed by the AM/FM/XM/CD/MP3 audio system with touch-screen navigation that includes a 400-watt external amplifier, dedicated Dual Voi ...