Towing service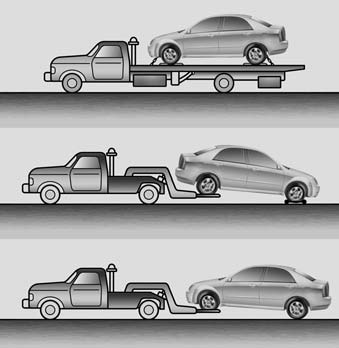 recommend having it done by an authorized Hyundai dealer or a commercial tow-truck service. Proper lifting and towing procedures are necessary to prevent damage to the vehicle. The use of wheel dollies or flatbed is recommended.
It is acceptable to tow the vehicle with the rear wheels on the ground (without dollies) and the front wheels off the ground.
If any of the loaded wheels or suspension components are damaged or the vehicle is being towed with the front wheels on the ground, use a towing dolly under the front wheels.
When being towed by a commercial tow truck and wheel dollies are not used, the front of the vehicle should always be lifted, not the rear.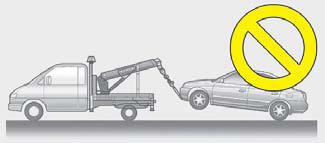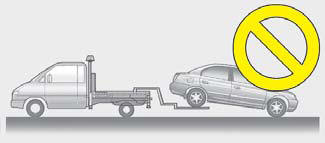 CAUTION
• Do not tow with sling-type equipment. Use wheel lift or flatbed equipment.
• Do not tow the vehicle backwards with the front wheels on the ground as this may cause damage to the vehicle.
When towing your vehicle in an emergency without wheel dollies : 1. Set the ignition switch in the ACC position.
2. Place the shift lever in N (Neutral).
3. Release the parking brake.
CAUTION
Failure to place the transaxle shift lever in N (Neutral) may cause internal damage to the transaxle.
See also:
Use of MTBE
HYUNDAI recommends avoiding fuels containing MTBE (Methyl Tertiary Butyl Ether) over 15.0% vol. (Oxygen Content 2.7% weight) in your vehicle. Fuel containing MTBE over 15.0% vol. (Oxygen Content 2. ...
Underwhelming Turbo Four-Cylinder
The Genesis coupe is offered with a standard turbocharged four-cylinder or an optional V-6, and this is one of those times when it's worth the extra money to choose the optional engine. I drove bo ...
Engine coolant
The high-pressure cooling system has a reservoir filled with year-round antifreeze coolant. The reservoir is filled at the factory. Check the antifreeze protection and coolant level at least once a ...