STEERING WHEEL TILT LEVER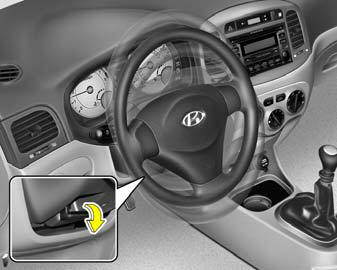 To Adjust the Steering Wheel: 1. Push the lever downward to unlock.
2. Raise or lower the steering wheel to the desired position.
3. After adjustment, securely tighten the lever by pulling it upward.
WARNING:
Do not attempt to adjust the steering wheel while driving as this may result in loss of control of the vehicle which may cause serious injury or death.
See also:
To Remove the Ignition Key
1. Turn the ignition key to the "ACC" position. 2. Simultaneously push and turn the ignition key counterclockwise from the "ACC" position to the "LOCK" position. 3. ...
RADIO, SET UP, VOLUME CONTROL (PA710S) (If Installed)
1. AM Selection Button 2. FM Selection Button 3. XM Selection Button 4. Automatic Channel Selection Button 5. Power ON/OFF Button & Volume Control Button 6. SCAN Button 7. MUTE Button 8. ...
Adjusting the height up and down (If Installed)
To raise the headrest, pull it up to the desired position (1). To lower the headrest, push and hold the release button (2) on the headrest support and lower the headrest to the desired position ...