FLOOR MAT ANCHOR(S)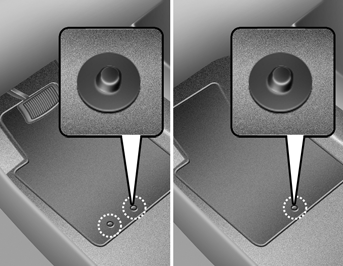 When using a floor mat on the front floor carpet, make sure it attaches to the floor mat anchor(s) in your vehicle. This keeps the floor mat from sliding forward.
WARNING:
The following must be observed when installing ANY floor mat to the vehicle.
o Ensure that the floor mats are securely attached to the vehicle's floor mat anchor(s) before driving the vehicle.
o Do not use ANY floor mat that cannot be firmly attached to the vehicle's floor mat anchors.
o Do not stack floor mats on top of one another (e.g. all-weather rubber mat on top of a carpeted floor mat). Only a single floor mat should be installed in each position.
IMPORTANT - Your vehicle was manufactured with driver's side floor mat anchors that are designed to securely hold the floor mat in place. To avoid any interference with pedal operation, HYUNDAI recommends that only the HYUNDAI floor mat designed for use in your vehicle be installed.
See also:
Sun visor
Sun visor Your Hyundai is equipped with sun visors to give the driver and front passenger either frontal or sideward shade. To reduce glare or to shut out direct rays of the sun, turn the sun vi ...
Windshield Wiper and Washer Switch
Windshield wiper/washer Rear window wiper/washer (If Installed) A : Wiper speed control Ј MIST Ц Single wipe Ј OFF Ц Off Ј INT Ц Intermittent wipe Ј LO Ц Low wiper speed Ј HI Ц High wiper s ...
Locking from the Inside
To lock the doors from the inside, simply close the door and push the lock switch to the "LOCK" position. NOTE: o When pushing the lock switch of the passenger's door to the " ...