PARKING BRAKE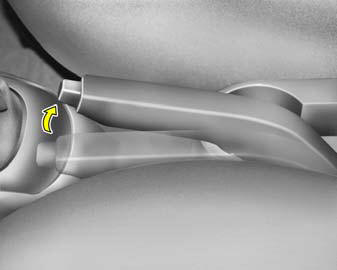 Always engage the parking brake before leaving the car. This also turns on the parking brake indicator light when the key is in the "ON" or "START" position. Before driving away, be sure that the parking brake is fully released and the indicator light is off.
Applying the parking brake
To engage the parking brake, first apply the foot brake and then without pressing the release button in, pull the parking brake lever up as far as possible. In addition it is recommended that when parking the vehicle on a gradient, the shift lever should be positioned in the appropriate low gear on manual transaxle vehicles or in the P (Park) position on automatic transaxle vehicles.
CAUTION:
Driving with the parking brake applied will cause excessive brake pad (or lining) and brake rotor wear.
Releasing the parking brake
To release the parking brake, first apply the foot brake and pull the praking brake lever slightly. Secondly, depress the release button and lower the parking brake lever while holding the button.
WARNING:
Whenever leaving vehicle or parking always set the parking brake as far as possible and fully engage the vehicle's transaxle into the park position. Vehicles not fully engaged in park with the parking brake set are at risk for moving inadvertently and injuring yourself or others.
See also:
Restrictions in handling keys
When leaving keys with parking lot and valet attendants, the following procedures will ensure that your vehicle's trunk and glove box compartment can only be opened with the master key. Lock Whe ...
Recommended SAE viscosity number
CAUTION Always be sure to clean the area around any filler plug, drain plug, or dipstick before checking or draining any lubricant. This is especially important in dusty or sandy areas and when t ...
2011 Hyundai Sonata Hybrid review
In the world of hybrids, there are two schools of thought: You can buy a Toyota Prius — a hard-core, 50-mpg hybrid with funky styling and a utilitarian interior — or you can pay more and get less- ...