Child Restraint System Installation on Rear Seat Center Position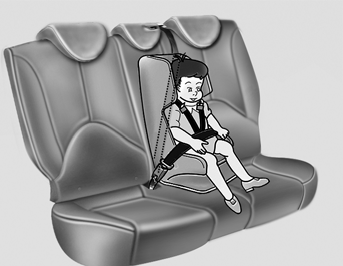 Use the center seat belt for the rear seat to secure the child restraint system as illustrated. After installation of the child restraint system, rock the child seat back and forth, and side to side to ensure that it is properly secured by the seat belt. If the child seat moves, readjust the length of the seat belt. Then, if equipped, insert the child restraint tether strap hook into the child restraint hook holder and tighten to secure the seat. Always refer to the child restraint system manufacturer's recommendation before installing the child restraint system in your vehicle.
See also:
Malfunction Indicator Light
This light illuminates when there is a malfunction of an exhaust gas related component and the system is not functioning properly. This light will also illuminate when the ignition key is turned ...
Check Spark Plugs and Ignition System
Inspect your spark plugs and replace them if necessary. Also check all ignition wiring and components to be sure they are not cracked, worn or damaged in any way. ...
Performance
A horsepower rating of 110 doesn't sound like a lot of power to anyone these days, but it was only a few years ago that a Honda Civic produced only 115 hp. The Accent's four-cylinder never felt un ...