Removal and installation (If Installed)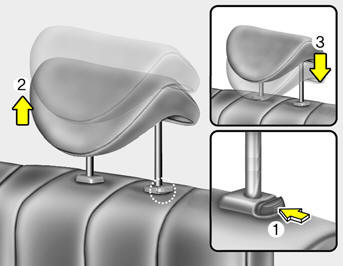 To remove the headrest, raise it as far as it can go then press the release button (1) while pulling upward (2).
To reinstall the headrest, put the headrest poles (3) into the holes while pressing the release button (1). Then adjust it to the appropriate height.
WARNING:
Make sure the headrest locks in position after adjusting it to properly protect the occupants.
See also:
Ride & Handling
Before driving the Elantra, I had my reservations about its driving dynamics. Some of Hyundai's other small models, like the Tucson crossover, don't offer the best driving experience, and I wonder ...
Traction control system (TCS)
(If installed) On slippery road surfaces, the traction control system (TCS) limits the drive wheels from spinning excessively, thus helping the car to accelerate. It also helps to provide suffic ...
Keeping the Condenser Clean
The air conditioner condenser (and engine radiator) should be checked periodically for accumulation of dirt, dead insects, leaves, etc. These can interfere with maximum cooling efficiency. When re ...