REAR SEAT. Adjusting seatback angle (3 Door)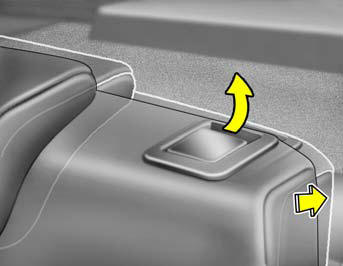 To recline the seatback, pull up the seatback folding lever (1) and push the seatback rearward.
To return the seatback to an upright position, pull up the seatback folding lever (1) and pull the seatback forward until the seatback locks into upright position. After adjusting the seatback angle, always check that it is securely locked into place.
WARNING:
Do not adjust the seatback angle while the vehicle is in motion.
See also:
Adjustable Intermittent Wiper Operation
To use the intermittent wiper feature, place the wiper switch in the "INT" position. With the switch in this position, the interval between wipes can be varied from approximately 1 to ...
Emission Control System
Your Hyundai is equipped with an emission control system to meet all requirements of the U.S. Environmental Protection Agency or California Air Resources Board. There are three emission control sys ...
Checking and Changing the Engine Coolant
WARNING: Do not remove the radiator cap when the engine is hot. When the engine is hot, the engine coolant is under pressure and may erupt through the opening if the cap is removed. You could be ...