REAR SEAT. Adjusting seatback angle (3 Door)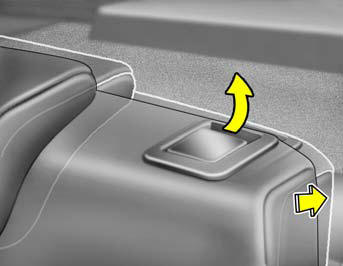 To recline the seatback, pull up the seatback folding lever (1) and push the seatback rearward.
To return the seatback to an upright position, pull up the seatback folding lever (1) and pull the seatback forward until the seatback locks into upright position. After adjusting the seatback angle, always check that it is securely locked into place.
WARNING:
Do not adjust the seatback angle while the vehicle is in motion.
See also:
2012 Hyundai Accent Review
Considering how much of a wretched piece of junk the old Hyundai Accent was, improving on the car (once known for being offered at a sub-$10,000 sticker price) was an easy task. With such a strong ...
Operating the automatic transaxle
The highly efficient Hyundai automatic transaxle has four forward speeds and one reverse speed. The individual speeds are selected automatically, depending on the position of the speed selector ...
Tire pressure monitoring system (TPMS)
(1) Low tire pressure telltale / TPMS malfunction indicator Each tire, including the spare (if provided), should be checked monthly when cold and inflated to the inflation pressure recommended by ...