Headrest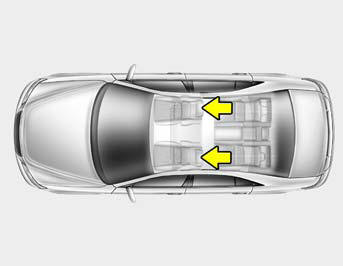 The driver's and front passenger's seats are equipped with a headrest for the occupant's safety and comfort.
The headrest not only provides comfort for the driver and front passenger, but also helps to protect the head and neck in the event of a collision.
WARNING:
o For maximum effectiveness in case of an accident, the headrest should be adjusted so the middle of the headrest is at the same height as the center of gravity of an occupant's head. Generally, the center of gravity of most people's head is similar with the height of the top of their eyes. Also, adjust the headrest as close to your head as possible. For this reason, the use of a cushion that holds the body away from the seatback is not recommended.
o Do not operate the vehicle with the headrests removed as severe injury to the occupants may occur in the event of an accident. Headrests may provide protection against neck injuries when properly adjusted.
o Do not adjust the headrest position of the driver's seat while the vehicle is in motion.
See also:
If the Engine Will Not Start
WARNING: If the engine will not start, do not push or pull the car to start it. This could result in a collision or cause other damage. In addition, push or pull starting may cause the catalytic ...
Overview
Hyundai introduced its all-new 2011 Hyundai Sonata at the 2009 Los Angeles Auto Show. This marked the North American debut of the latest version of the popular midsize sedan, introducing Hyundai's ...
To decrease the cruising speed
Follow either of these procedures: o Push the -/SET switch and hold it. Your vehicle will gradually slow down. Release the switch at the speed you want to maintain. o Push the -/SET switch and r ...