Filter replacement
1. Open the glove box and remove the support strap (1).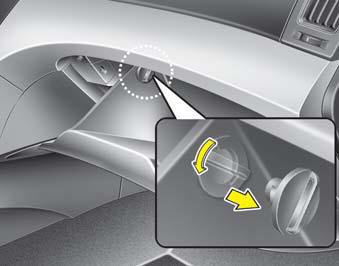 2. With the glove box open, remove the stoppers by turning them counterclockwise on both sides.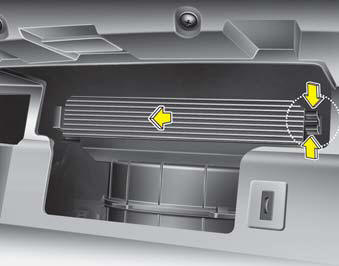 3. Remove the climate control air filter cover while pressing the lock on the right of the cover.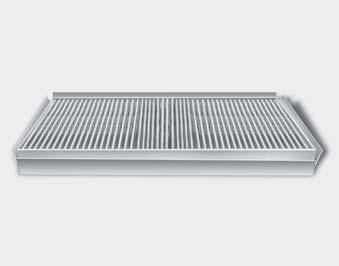 4. Replace the climate control air filter.
5. Reassemble in the reverse order of disassembly.
NOTICE
When replacing the climate control air filter install it properly. Otherwise, the system may produce noise and the effectiveness of the filter may be reduced.
See also:
Air Conditioning Operation
To use the air conditioning to cool the interior: o Turn on the fan control switch. o Turn on the air conditioning switch by pushing in on the switch. The air conditioning indicator light should ...
Checking the amount of air conditioner refrigerant and compressor lubricant
When the amount of refrigerant is low, the performance of the air conditioning is reduced. Overfilling also has a negative influence on the air conditioning system. Therefore, if abnormal operatio ...
BRAKE PAD WEAR WARNING SOUND
The front disc brake pads have wear indicators that should make a high-pitched squealing or scraping noise when new pads are needed. The sound may come and go or be heard all the time when the veh ...