Armed Stage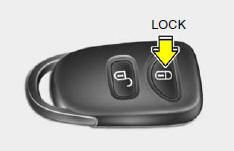 Park the car and stop the engine. Arm the system as described in the following paragraph.
1) Remove the ignition key from the ignition switch.
2) Make sure that all doors, tail gate (3 Door) and engine hood are closed and latched.
3) Lock the doors using the transmitter of the keyless entry system.
After completion of the steps above, the turn signal lights will blink once to indicate that the system is armed.
The system can be armed by locking the doors with the key from the front doors or tail gate (3 Door). However, the hazard warning lights are not operated.
NOTE:
If any door, tail gate (3 Door) or engine hood remains open, the system will not be armed. If this happens, rearm the system as described above.
CAUTION:
o Do not arm the system until all passengers have left the car. If the system is armed while a passenger(s) remains in the car, the alarm may be activated when the remaining passenger(s) leaves the car.
o If the "LOCK" button is pressed once more within 4 seconds after pushing the "LOCK" button on the transmitter, the alarming horn will sound once to indicate that the system is armed.
See also:
Spare Tire and Tools
Your Hyundai is delivered with the following: Spare tire and wheel Jack, Towing hook (If Installed) Wrench bar, Wheel nut wrench ...
Tire maintenance
In addition to proper inflation, correct wheel alignment helps to decrease tire wear. If you find a tire is worn unevenly, have your dealer check the wheel alignment. When you have new tires instal ...
Check Spark Plugs and Ignition System
Inspect your spark plugs and replace them if necessary. Also check all ignition wiring and components to be sure they are not cracked, worn or damaged in any way. ...