Headlight, position light, turn signal light, side marker light and front fog light bulb replacement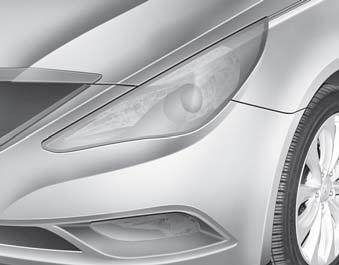 (1) Headlight (High) (2) Headlight (Low) (3) Front turn signal light / Position light (4) Front fog light (if equipped)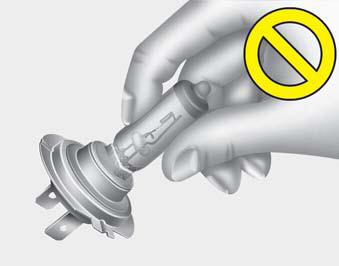 Headlight bulb
WARNING - Halogen bulbs
Х Halogen bulbs contain pressurized gas that will produce flying pieces of glass if broken.
Х Always handle them carefully, and avoid scratches and abrasions. If the bulbs are lit, avoid contact with liquids. Never touch the glass with bare hands. Residual oil may cause the bulb to overheat and burst when lit. A bulb should be operated only when installed in a headlight.
Х If a bulb becomes damaged or cracked, replace it immediately and carefully dispose of it.
Х Wear eye protection when changing a bulb. Allow the bulb to cool down before handling it.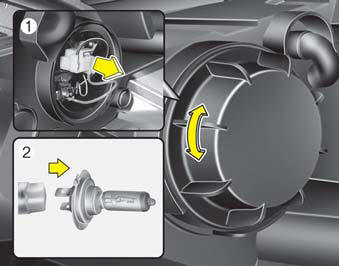 1. Open the hood.
2. Remove the headlight bulb cover by turning it counterclockwise.
3. Disconnect the headlight bulb socketconnector.
4. Unsnap the headlight bulb retaining wire by depressing the end and pushing it upward.
5. Remove the bulb from the headlight assembly.
6. Install a new headlight bulb and snap the headlight bulb retaining wire into position by aligning the wire with the groove on the bulb.
7. Connect the headlight bulb socketconnector.
8. Install the headlight bulb cover by turning it clockwise.
NOTICE
If the headlight aiming adjustment is necessary after the headlight assembly is reinstalled, consult an authorized HYUNDAI dealer.
Front turn signal, position, side marker and fog light bulbs (if equipped) If the light bulb is not operating, have the vehicle checked by an authorized HYUNDAI dealer.
See also:
Manual transaxle operation
The manual transaxle has 6 forward gears. This shift pattern is imprinted on the shift knob. The transaxle is fully synchronized in all forward gears so shifting to either a higher or a lower gear ...
One Person Per Belt
Two people (including children) should never attempt to use a single seat belt. This could increase the severity of injuries in case of an accident. ...
Snow Tires
If you equip your car with snow tires, they should be the same size and have the same load capacity as the original tires. Snow tires should be installed on all four wheels; otherwise, poor handli ...