Headlight, position light, turn signal light, side marker light and front fog light bulb replacement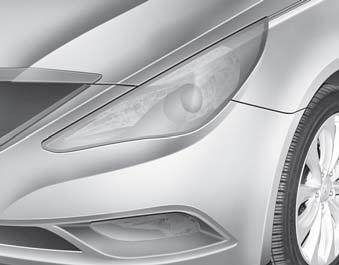 (1) Headlight (High) (2) Headlight (Low) (3) Front turn signal light / Position light (4) Front fog light (if equipped)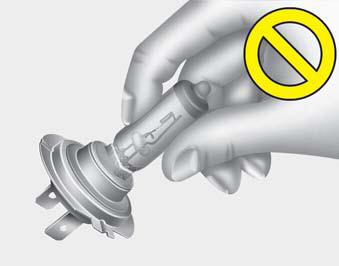 Headlight bulb
WARNING - Halogen bulbs
Х Halogen bulbs contain pressurized gas that will produce flying pieces of glass if broken.
Х Always handle them carefully, and avoid scratches and abrasions. If the bulbs are lit, avoid contact with liquids. Never touch the glass with bare hands. Residual oil may cause the bulb to overheat and burst when lit. A bulb should be operated only when installed in a headlight.
Х If a bulb becomes damaged or cracked, replace it immediately and carefully dispose of it.
Х Wear eye protection when changing a bulb. Allow the bulb to cool down before handling it.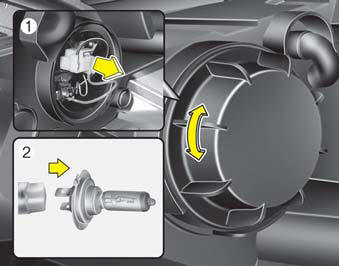 1. Open the hood.
2. Remove the headlight bulb cover by turning it counterclockwise.
3. Disconnect the headlight bulb socketconnector.
4. Unsnap the headlight bulb retaining wire by depressing the end and pushing it upward.
5. Remove the bulb from the headlight assembly.
6. Install a new headlight bulb and snap the headlight bulb retaining wire into position by aligning the wire with the groove on the bulb.
7. Connect the headlight bulb socketconnector.
8. Install the headlight bulb cover by turning it clockwise.
NOTICE
If the headlight aiming adjustment is necessary after the headlight assembly is reinstalled, consult an authorized HYUNDAI dealer.
Front turn signal, position, side marker and fog light bulbs (if equipped) If the light bulb is not operating, have the vehicle checked by an authorized HYUNDAI dealer.
See also:
Cup holder
WARNING - Hot liquids Х Do not place uncovered cups of hot liquid in the cup holder while the vehicle is in motion. If the hot liquid spills, you may burn yourself. Such a burn to the driver coul ...
Checking tire inflation pressure
Check your tires once a month or more. Also, check the tire pressure of the spare tire. How to check Use a good quality gage to check tire pressure.You can not tell if your tires are properly inf ...
Uniform Tire Quality Grading
Quality grades can be found where applicable on the tire sidewall between tread shoulder and maximum section width. For example: TREAD wear 200 TRACTION AA TEMPERATURE A Hyundai motor vehicles ...