Spare tire
TEMPORARY SPARE TIRE
The following instructions for the temporary spare tire should be observed: 1. Check inflation pressure as soon as practical after installing the spare tire, and adjust to the specified pressure.
The tire pressure should be periodically checked and maintained at the specified pressure while the tire is stored.
Spare Tire Pressure
Tire Size
Type A
T155/90R16
Type B, C
T155/90D16
Inflation Pressure
60 psi (420 kPa)
2. The spare tire should only be used temporarily and should be returned to the luggage compartment as soon as the original tire can be repaired or replaced.
3. Continuous use at speeds of over 50 mph (80 km/h) is not recommended.
4. As the temporary spare tire is specifically designed for your vehicle, it should not be used on any other vehicle.
5. The temporary spare tire should not be used on any other wheels, nor should standard tires, snow tires, wheel covers or trim rings be used with the temporary spare wheel. If such use is attempted, damage to these items or other car components may occur.
6. The temporary spare tire pressure should be checked once a month while the tire is stored.
CAUTION:
o Do not use snow chains with your temporary spare tire.
o Do not use more than one temporary spare tire at a time.
o Do not tow a trailer while the temporary spare tire is installed.
WARNING:
The temporary spare tire is for emergency use only. Do not operate your vehicle on this temporary spare at speeds over 50 mph (80 kmh). The original tire should be repaired or replaced as soon as is possible to avoid failure of the spare possibly leading to personal injury or death.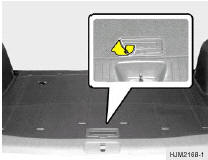 Handling the Spare Tire
To remove the spare tire
1. Open the tail gate.
2. Remove the luggage mat.
3. Remove the luggage under tray.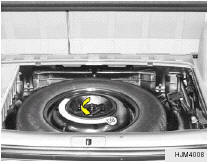 4. Turn the installation bolt counterclockwise with a wheel nut wrench to remove the spare tire. After replacing the spare tire, install and tighten the bolt firmly with your fingers until there is no more play in the spare tire.
See also:
Driving for Economy
You can save fuel and get more miles from your car if you follow these suggestions: o Drive smoothly. Accelerate at a moderate rate. Don't make "jack-rabbit" starts or full-throttle s ...
2012 Hyundai Elantra review By Steven Cole Smith
Just as Hyundai did with the new Sonata -- which matches and in many ways surpasses its top competition in the midsized category, the Honda Accord and Toyota Corolla -- the Korean company is hopin ...
To install the wiper blade
1. Put a new wiper blade onto the wiper arm and lower the wiper blade at the level of the wiper arm as shown in the drawing. 2. Pull up the wiper blade until you hear an audible "click&quo ...