Checking the engine oil level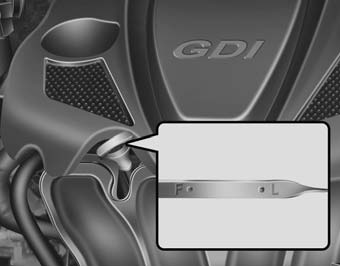 1. Be sure the vehicle is on level ground.
2. Start the engine and allow it to reach normal operating temperature.
3. Turn the engine off and wait for a few minutes (about 5 minutes) for the oil to return to the oil pan.
4. Pull the dipstick out, wipe it clean, and re-insert it fully.
5. Pull the dipstick out again and check the level. The level should be between F and L.
CAUTION
Do not overfill with engine oil. Engine damage may result.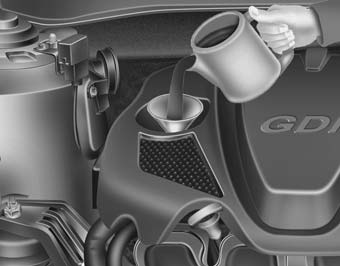 If it is near or at L, add enough oil to bring the level to F. Do not overfill.
Use a funnel to help prevent oil from being spilled on engine components.
Use only the specified engine oil. (Refer to "Recommended lubricants and capacities" in section 8.)
See also:
Used Hyundai Elantra Models
Prior to the new, redesigned model, Hyundai offered the fourth-generation Elantra that ran from 2007-'10. Having established the Elantra as a legitimate contender in the compact segment with its p ...
Keep Paint and Trim in Good Condition
Scratches or chips in the finish should be covered with "touch-up" paint as soon as possible to reduce the possibility of corrosion. If bare metal is showing through, the attention of a ...
Adjusting the height up and down
To raise the headrest, pull it up to the desired position (1). To lower the headrest, push and hold the release button (2) on the headrest support and lower the headrest to the desired position ...