Driving at night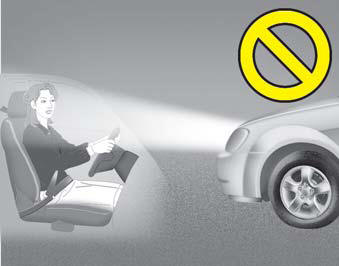 Because night driving presents more hazards than driving in the daylight, here are some important tips to remember:
Х Slow down and keep more distance between you and other vehicles, as it may be more difficult to see at night, especially in areas where there may not be any street lights.
Х Adjust your mirrors to reduce the glare from other driver's headlights.
Х Keep your headlights clean and properly aimed on vehicles not equipped with the automatic headlight aiming feature. Dirty or improperly aimed headlights will make it much more difficult to see at night.
Х Avoid staring directly at the headlights of oncoming vehicles. You could be temporarily blinded, and it will take several seconds for your eyes to readjust to the darkness.
See also:
97,500 miles (156,000 km) or 78 months
❑ Inspect air cleaner filter ❑ Inspect vacuum hose ❑ Replace engine oil and filter (97,500 miles (156,000 km) or 156 months) ...
High-mounted rear stop light
In addition to the lower-mounted rear stoplights on either side of the car, the high mounted rear stoplight in the center of the rear window also lights when the brakes are applied. ...
All Season Tires
Hyundai specifies all season tires on some models to provide good performance for use all year round, including snowy and icy road conditions. All season tires are identified by ALL SEASON and/or ...