Driving at night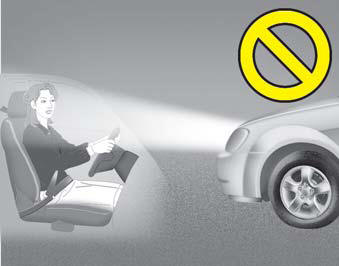 Because night driving presents more hazards than driving in the daylight, here are some important tips to remember:
Х Slow down and keep more distance between you and other vehicles, as it may be more difficult to see at night, especially in areas where there may not be any street lights.
Х Adjust your mirrors to reduce the glare from other driver's headlights.
Х Keep your headlights clean and properly aimed on vehicles not equipped with the automatic headlight aiming feature. Dirty or improperly aimed headlights will make it much more difficult to see at night.
Х Avoid staring directly at the headlights of oncoming vehicles. You could be temporarily blinded, and it will take several seconds for your eyes to readjust to the darkness.
See also:
Exhaust Pipe and Muffler
Visually inspect the exhaust pipes, muffler and hangers for cracks, deterioration, or damage. Start the engine and listen carefully for any exhaust gas leakage. Tighten connections or replace part ...
Impact sensing door unlock system (if equipped)
All doors will be automatically unlocked when the impact is delivered to impact sensors while the ignition switch is ON. However, the doors may not be unlocked if mechanical problems occur with the ...
Elantra in the Market
The recently redesigned Sonata family sedan has been a breakout success for Hyundai. It gave families a stylish, fuel-efficient, value-packed alternative to the traditional heavyweights in its seg ...